The Nordic countries that are associated with Scandinavia are a geographical and cultural region in Northern Europe and the North Atlantic that have much in common in their way of life, history, language and social structure. It consists of five countries (Denmark, Finland, Iceland, Norway, and Sweden) as well as their autonomous regions (the Aaland Islands, the Faroe Islands, and Greenland).
The digital evolution drives Branded Content & Entertainment
In 2005, the channel 5 TV Station in Sweden launched a program called 'Roomservice' that was a lifestyle home improvement program, fully funded by industry organisations like The Swedish Painters Union. Its commissioning was a reaction to the lack of results from traditional TV ads and a digital evolution, making it possible for viewers to skip the commercials leading to a raising on demand culture. The programme resulted in an increase in those learning to become painters, and the sale of paint. But despite the success of this programme,  the increase in investment in Branded Content and Entertainment (BC&E) has been ironically been mostly in digital and social media rather than TV.
The Nordics/Scandinavia leads the way in EU
There's around 26 million people in the 5 Scandinavian countries, and as far as the media landscape is concerned it's worth noting that the region leads the rest of EU when it comes to use of digital and social media among those aged between 16-74. In Denmark alone, 66% use digital and social media, compared to only 46% in the rest of Europe. Norway and Iceland take the lead with 71% and 86% respectively,  with numbers for Finland (56%) and Sweden (65%) also being higher than European average. These numbers were revised in February this year at Social Media Week (#SMW) by Statistics Denmark.
With common social structures and the benefits of a digital and social media adoption, the region a great test market of digital and social BC&E campaigns for international Brands. These test can result in insights and new business models for developing BC&E activities across the EU and beyond.
From independent to integrated campaigns
Launching integrated BC&E campaigns, simultaneously across multiple countries is another benefit. For example, when Unilever wanted to launch an AXE deodorant in Scandinavia they made used of the dating shows TV format 'The Gamekillers' they owned. The show aired on commercial TV stations in Finland, Sweden and Denmark almost simultaneously. The main purpose of the TV show was to drive traffic and engagement on digital and social media, and at events, so the success was not dependent on numbers of TV-viewers.
Interestingly, The Gamekillers was developed in co-operation with MTV in USA and exported to several countries worldwide. The IP is owned by Unilever, and is actively being sold at  TV-Industry content market MipTV.
From BC&E campaign to new business model
Despite the increasing investment in digital and social BC&E, there's a whole host of other solutions being created for radio, music, games and even books. These have also created new business models, just like Unilever have achieved with The GameKillers. For example, there have been several food recipe books developed that have been sold alongside the products in retail. Some of these books have even made it to Broadcast TV, becoming a TV-format based on the BC&E book idea.
Broadcast-based BC&E formats can be long and complicated, and that's why digital and social will become central to future strategy. BCMA Scandinavia is happy to advise any brand who is interested to look at using the Nordics/Scandinavian region as a test market, to develop a business case for their next BC&E initiative before full roll out whether it's using a digital, social or more traditional media platform.
We've a whole host of award winning examples we can share, but in the meantime here's some regional highlights from the 3 years since Cannes Lions launched their BC&E category:
2012: Norway earns a Silver Lion for the non-fiton/social experiment 'A summer without rain' for low-coast airline Widerøe (see report containing 'A summer without rain' and other great examples of travel branded content here):
2013: Sweden sweeps the award shows around the globe and wins the BC&E Eurobest Grand Prix for the "Live test series" for Volvo Trucks, which created much industry debate about whether it is actually BC&E or not.  Either way, it sure hit the sweet spot of modern advertising (see Epic Splits case study from BOBCM Volume III):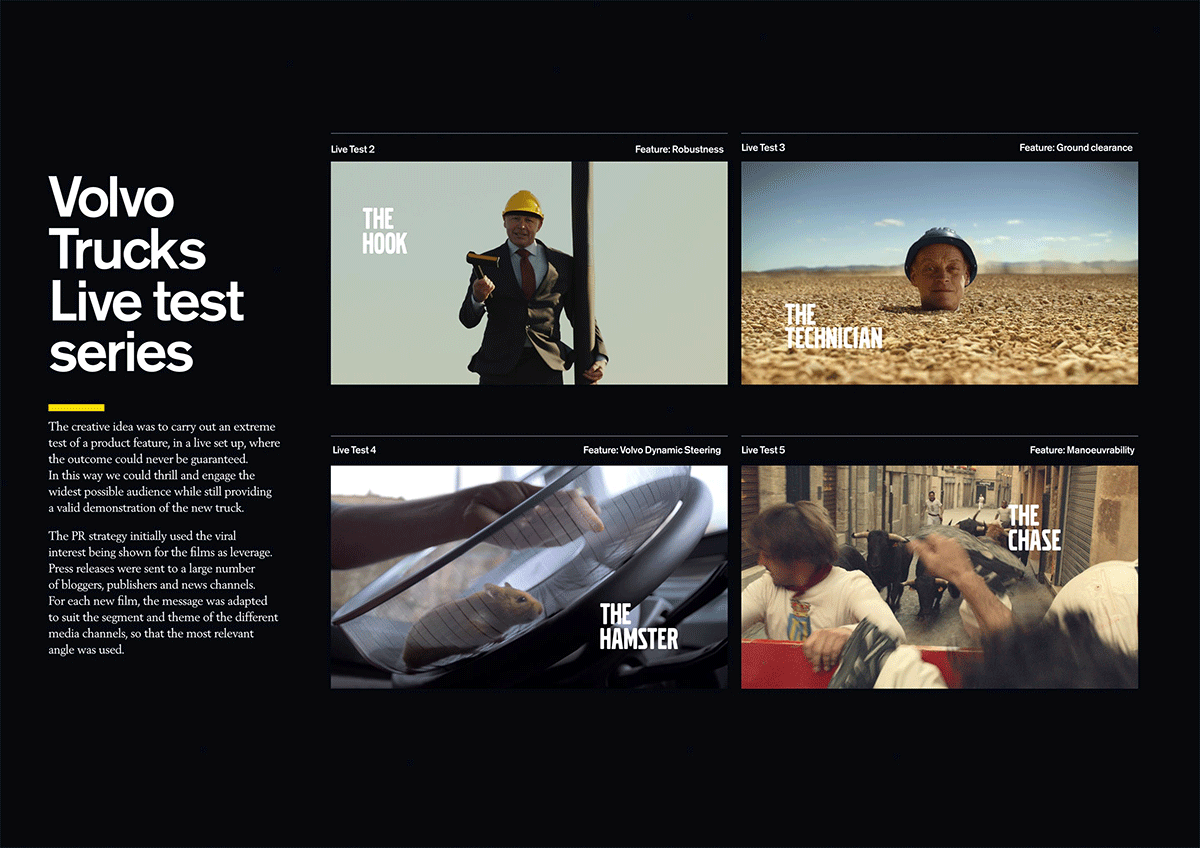 2014: Finland leads the way by winning the Eurobest Grand Prix with the sit-com BRÄNDÄRIT (see why Havas' Izabela Kurczewska and other jurors awarded this campaign the Grand Prix here):
2015: Denmark takes home a Bafta award for the Lego movie in the category best animated movie (see why CAA's Jesse Coulter thinks that The LEGO® Movie is a great example of branded content here):
This report was originally published on BOBCM