BCMA launch event at Wavemaker, Cucumber, Sea Containers 13th Floor, a great success, with a brilliant turn out and insightful panel session
I think the future of branded content is going to be more challenging creatively, as we try and balance connecting with audiences who expect beautiful, seamless digital experiences with proving a return on investment. That doesn't mean that it isn't going to be fun though – I can't wait to see where the future will take us." Angela Everitt, Director Creative Strategy EMEA, The Economist Group
Photos of the event are available to view here
To mark it's landmark fifteen-year anniversary, the Branded Content Marketing Association (BCMA) has published a new book, Fifteen Years, A Branded Content Story.
The book brings together the foremost branded content experts from across the globe with a collection of inspiring, thought-provoking and engaging essays. The 60 contributors are leaders from industry and academia sharing their incredible stories and insights into how branded content has evolved and come to the forefront of marketing communications and how it will continue to shape the future of advertising industry.
Ellie Norman, Director of Marketing and Communications at Formula 1, has written the Foreword. Prior to this Ellie was Head of Advertising & Sponsorship for Virgin Media.
Expert contributions have come from across the globe covering all aspects of the branded content from industry and academia, including, Andrew Canter, Sir Peter Bazalgette, Greg Turzynski, Professor Jonathan Hardy, Dr. Bjoern Asmussen, Serena Wider, Ross Williams, James Larman, Sam Zises, Professor Mara Einstein, James Hayr, Caressa Douglas, Spero Patricios, Rupert Maconick, Professor Christoph Lindemann, Elena Grinta, Martina Ruhl, Daniel Rosenberg, Javier Regueira, PhD, Philip O'Ferrall, Karnvir Mundrey, Daniel Bo, Petra Kroop, Professor Iain Macrury, Margret Knitter, Simon Orpin, Patricia Weiss, Olivier Robert-Murphy, João Belmar, Rob Donnell, Anna Gavazzi, Kata Fasi, Michael Wylie-Harris, Pascal Somarriba, Professor Paul Springer, Jan Godsk, Steve Macallister, Ed Cracknell, Scott Green, Anton Efimov, Sandra Freisinger-Heinl, Tom Curtis, Thomas Jamet, Adam Harris, Eleanor Thornton-Firkin, Ellen Marzell, Neil Waller, Jack Dyson, Simon Gosling, Graham Hayday, Rebecca Allen, Mark Choueke, Pablo Muñez, Daniel Calabuig, Ravid Kuperberg, Angela Everitt, Lawrence Ribeiro, Maria D'Souza, Richard Malton, Kaaren Whitney-Vernon, Adam Hua, Trevor Hardy, Bruce Bildsten.
The experts, a mix of CEO's, CMO's, MD's, Founders, Professors, Doctors (PhD) and a Knight of the Realm, represent a diverse nature of companies, including, ITV, Formula 1, Economist Group, EndemolShine Group, Queens University (New York), Branded Entertainment Network, University Of East London, Wavemaker, SAP, IPG Mediabrands, BT Sport, MediaCom, FCB, Best Buy, MediaCom Beyond Advertising, Universal Music, Oxford Brookes University, Unruly, Posterscope, Ocean Outdoor, OMD Fuse, Whalar, Falmouth University, Twitch, Saville Productions and Ipsos MORI amongst others.
Countries represented generally reflect BCMA Chapters (and Regions), including the UK, USA, Canada, France, Germany (DACH), Denmark (Scandinavia), Spain, Italy, India, Hungary, Brazil (South America), South Africa, Russia and Israel.
The BCMA has always been the trusted global industry body for branded content practitioners, providing members with best practice advice, sharing knowledge and growing the branded content industry. We are delighted to bring together the leading experts from industry and academia to produce an important reference book. Fifteen Years, A Branded Content Story is a true collaboration on a global scale, the likes of which has not been seen before. We are extremely proud of our achievements and look forward to the next fifteen years with great excitement." Andrew Canter, Global CEO, BCMA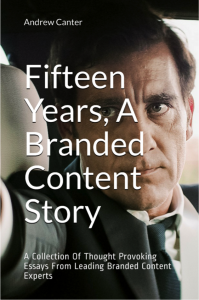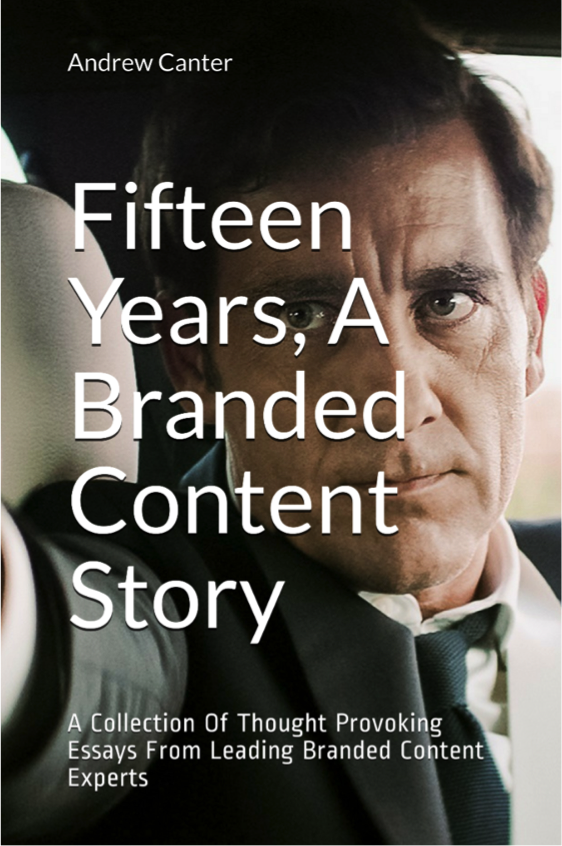 The book is available now on Amazon or search Fifteen Years, A Branded Content Story on Amazon