We generally look back to look forward and predict the emerging trends, but the explosion of social media and the rapid development of technology has impacted positively on branded content and given us a glimpse of what the future may hold for brands. 2013 was the year that branded content marketing came of age.
2013 has been an incredibly exciting year with some amazing campaigns from major brands. We've seen the growth of social media and the Internet as a real driver, and I think that brands that adopt strategies that embrace branded content to its full impact will maximise ROI.
Andrew Canter​, CEO​, BCMA
The recent content revolution can be traced back to a seminal moment in 2001 when BMW decided to take its US$30 million advertising budget and spend it on producing five 'mini' feature films working with luminary directors and producers, such as Ang Lee, Guy Richie, John Woo, Ridley and Tony Scott. The star-studded line-up of actors included Clive Owen, Madonna, Don Cheadle, Mickey Rourke, Gary Oldman and Forest Whitaker.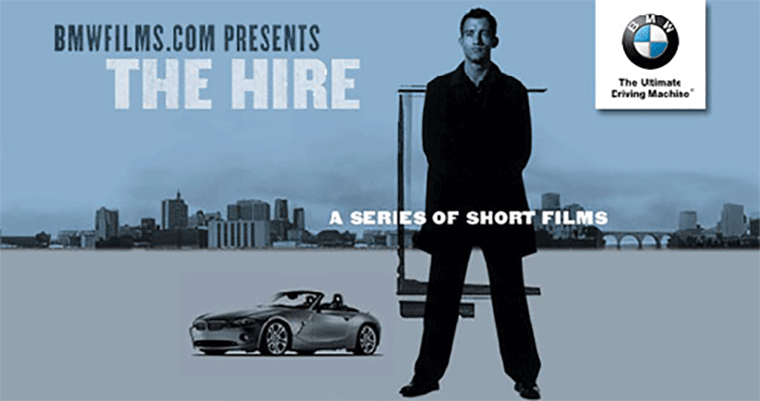 BMW Films' 'The Hire' series season one featured 'Ambush', 'Chosen', 'The Follow', 'Star', and 'Powder Keg'. The brand followed this up with three more films for season two: 'Hostage', 'Ticker', and 'Beat the Devil'.
Already ahead of the curve, BMW then created BMW Audiobooks in 2006, which were given to customers to play in their new cars, but were not deemed to be a great success. However, we often learn more from things that don't work than from things that do, so BMW should be congratulated for their vision and foresight.
We can surmise that this influenced the decision of the likes of Audi (2005) and more recently Renault (2009) to launch dedicated channels to showcase their brands. We have also seen Jaguar producing the 2013 film, 'Desire', starring Damian Lewis. It was created in collaboration with Ridley Scott Associates (RSA) and features music from Lana Del Rey.
The masters of branded content, Red Bull have created some incredible content over the past few years, culminating in the Stratos project that saw Felix Baumgartner freefall from space. Who would have thought that a brand would be bold and confident enough to spend millions on achieving this? Money well spent? It certainly gives a whole new meaning to the phrase, "Red Bull gives you wings".
Mobile telecommunications brands have been extremely active in the branded content market in the last decade. We have seen Orange create the music show 'Playlist' with Initial (Endemol), broadcast on ITV in 2005. A year later T-Mobile decided to follow suit and co-produced a show with Channel 4 called 'Transmission', and Vodafone's music show TBA ran on E4 from 2006, produced by Endemol.
Drinks brands have relied heavily on branded content, with great examples from Bacardi's B-Live events in partnership with Groove Armada. A drinks brand as a record label?
Also, established brands such as Johnnie Walker have created a rich vein of content based on the history of the brand.
Other brands like Chivas Regal have invested heavily in content creation with two films based on real friendships directed by multi-award-winning Joachim Back: Here's to 'Big Bear' and 'Here's to Twinkle'.
We also witnessed a huge change in attitude to content as brands such as Heineken reportedly increased their branded content marketing budget from under 5% to 25% over the course of 18 months. This culminated in their highly acclaimed 2011 'Open Your World' campaign that was created to engage in areas that were at the centre of their core consumer's life, i.e. music, football, nightlife and social media. With this campaign, they recognise the legend in all of their drinkers, those who know their way around and recognise a fine beer when they taste one. In 'The Entrance', the film's hero demonstrates his 'legendary-ness' by making the ultimate party entrance.
This was followed by their high-profile involvement in the James Bond movie 'Skyfall', which caused a great stir among Bond fans as beer replaced his Martini and generated hugecoverage for the brand. It was a notable example of how brand integration can be subtle but effective, notwithstanding the £45 million investment.
We've evolved from, "If [consumers] might skip my ads then I'm going to try and hide my ads in the content they're already consuming" to "Wait a minute, I actually have stories that I can shape and share with my audience that are worthy of their time." That is really a huge transfer of thought from a world of branded content being a tactic, to a world of strategic, story-based marketing where all forms of communication have to be put through the filter of "What do I have to say that adds value to people's lives and conversations?
Scott Donaton,Global Chief Content Officer, UM
Branded content has always been at the heart of Luxury brands, with great examples coming from:
Dunhill's 'The Voice' campaign, featuring distinguished gentlemen who have achieved great things in their chosen fields.
Prada with 'The Therapy', a short movie directed by Roman Polanski, starring Helena Bonham Carter and Ben Kingsley.
LVMH Nowness Chanel, producing the 30-minute film 'The Tail of a Fairy', created by Karl Lagerfeld and featuring Vogue cover girl Freja Beha Erichsen.
Cartier with their incredibly moving 'Painted Love' campaign, featuring original music by French band, Air.
The soft drinks sector has been dominated by Coca Cola who have fully committed to branded content with their 'Content 2020' vision.
They believe this will leverage the opportunities in the new media landscape and transform one-way storytelling into dynamic storytelling that hopes to add value and significance to people's lives. Their 'Move to the Beat' campaign in 2012 formed part of their Olympic Games association and achieved great results.
We have also seen them diversify into sub brands, such as Coke Zero for which 'A Step from Zero' was created with excellent results. The campaign consisted of launching a global social media audition to define the next global dance move. After hundreds of original dance move submissions poured in from all parts of the world – igniting thousands of social media conversations – one guy stood out with a tale of possibility that just had to be told. Not only did his dance move – the 'Toe Tappy' – take off, but also he got the whole world dancing to it.
And who can forget the Coca Cola Polar Bears that featured during the Superbowl in 2012? Another great example of branded content from a truly visionary brand.
In sport, Nike have been the most active brand creating content around specific events, such as their city-based 'Run' series – for example, aligning 'Run London' to the recent 'My Time Is Now' campaign."
Then there are the charities that have used branded content effectively. Of note is 'Movember' that has helped to raise "£276 million over the past 10 years with 577 funded projects for men's health in 21 countries, focused upon prostrate and testicular cancer as well as mental health issues. There is also Cancer Research UK's 'Tesco Race for Life', the UK's biggest women-only fundraising event, which incorporates a 5km run for the charity. It has raised almost £500 million over the past two decades.
There are many more great examples of brands using content effectively, which can be viewed on the BCMA's YouTube channel. There are also examples of where branded content has not worked as well as planned. It is often the latter campaigns we learn most from, and we must ensure that changes are implemented for subsequent activity to ensure the best possible outcome.
At our most recent BCMA event, BC:2023, we asked our experts to look 10 years into the future and give us their views on what brands would be doing to engage with their customers.
Eric Schwamberger, Partner at Tenthwave, said that brands will stop "disrupting what people are interested in" and try to "become what people are interested in", shifting marketing value from brand impressions and message frequency to brand engagement and experiences.
I think one of the most interesting things about marketing today is just how much being a globally connected society has changed things. As more people enter the job market and [join] organisations that understand the value of relevant content and being a good social brand, and that value relationships over impressions – as these people are put in charge of budgets, we are going to see more attention paid to branded content and content marketing. This is going to be essential for these people to succeed, because many brands will be competing to win the hearts and minds of their consumers. The successful agencies in the next five years are going to become obsessed with delivering branded experiences that can create real bonds with their customers.
Eric Schwamberger, Partner, Tenthwave
His other prediction was that, as the first 'Social Generation' grows up, transparency and sharing will become part of a new global dynamic. The idea of social media will move past a line item in the marketing budget to an integrated tactic of just about everything we do.
We have seen an unprecedented increase in the level of branded content over the past year, and, although the process of producing great content has improved, there is still much debate and discussion about the best approach.
This was summed up in 2013 by Robin Thornton of Shaman Marketing, who said, "There is a significant amount of confusion and controversy out there around what content is, what it does and how to use it." This is backed up by Cindy Gallop of IfWeRanTheWorld who said, "Content is such a broad and fuzzy term that it tends to make any discussion of it broad and fuzzy as well." These quotes come from the literature review of our current academic study, 'Defining Branded Content for the Digital Age'.
I don't think brands are taking enough risks in the content space. [They are] looking at what they bought from a mass media perspective and trying to replicate that in the realm of digital. I also believe that the content produced by brands is primarily passive and linear. I don't think it takes advantage of advanced platforms like Xbox One. I don't think it has a high level of consumer engagement. I don't think it is transmedia in the truest sense of delivering different content experiences, be they entertainment or utility based. So I think there is tremendous growth opportunity.
Doug Scott, President, OgilvyEntertainment
However, through the BCMA's desire and passion to drive forward creativity and establish academic understanding, champion best practice and share learning, we truly believe that branded content will continue to be an increasingly important part of the marketing mix.
This will maximise the return on investment for those brands adopting a strategy that fully embraces the power of content.
I hope this provides you with an idea of where branded content marketing is at and heading, and I'll be contributing more updates over the coming year. In the meantime, I'll leave the last word to the heads of the BCMA's  Russian and South American Chapters as introductions to their market reports:
The branded content segment is developing and becoming more popular among advertisers in Russia. Top TV programmes of general interest and top sport events are already branded. Further growth will follow the segmentation of content delivery channels (Internet and digital TV) and technologies that analyse audience preferences. Audiences will require more and more specific-interest content that will be produced in partnership with advertisers.
Anton Efimov, Managing Director, Fuse Russia
[See 
Market Report: Russia 2014
]
In the Age of Social Conversation, the period of interruption-based advertising is diminishing and is being replaced by engagement-based advertising in most parts of the South American region.

In Brazil, 2013 has been the year of the video, due to the social visual culture evolution. Naturally, marketers are planning to increase social video ad placements, leveraging the production investments of original content to create their own experience and conversation territory with the consumer – without causing an impact on the traditional, and still predominant, investment in TV.

Because we are an emerging market, in many cases, the content created is still centred on the brand and is media-oriented, demanding stronger planning and creativity to develop more entertaining, efficient, involving, storied and relevant branded content initiatives within the consumer's context to provoke shareability and relationship.

The big challenge for the Brazilian market is in maturing and expanding branded content strategies by permeating other forms of connection between the brand and the consumer. When storytelling gets incorporated in the centre of the brand strategy, it will triumph as a powerful, 'meaning-conveyor' marketing tool.

More examples of compelling stories that manage to get the attention of a dispersive audience will be seen, informing and delivering value while entertaining. Marketers are getting serious about creating great stories that spread brand meaning and help to humanise the brands – exactly now, when the most important universal currency is the conversation.
Patrícia Weiss, SVP Strategic Consultant for Branded Content, Branded Entertainment and Transmedia Storytelling, ASAS da Imaginação
[See 
Market Report: Brazil 2014
]
This article was originally published in the Best of Branded Content Marketing: Volume II that forms part of BOBCM partnership.