Insight Series, 26th June 2013 – Havas Media, 60 St Martin's Lane, London WC2N 4JS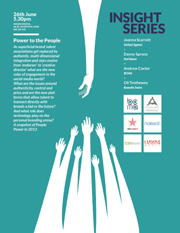 As superficial brand-talent associations get replaced by authentic, multi-dimensional integration and stars evolve from 'endorser' to 'creative director' what are the new rules of engagement in the social media world? What are the issues around authenticity, control and price and are the new platforms that allow talent to transact directly with brands a fad or the future? And what role does technology play on the personal branding arena?
A snapshot of People Power in 2013.