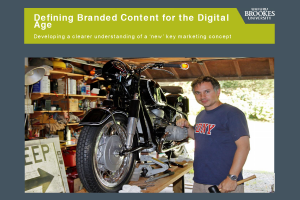 Little research has been conducted to date in the area of branded content, in spite of the rising use of this key marketing concept, and the estimated US$4bn value of the branded content market.
As part of the Branded Content Marketing Association's (BCMA's) strategy to establish academic understanding as well as champion best practice and share learning, it has commissioned a study entitled 'Defining Branded Content for the Digital Age'.
Conducted by Oxford Brookes University and the BCMA's global research partner Ipsos MORI, this study has two main purposes:
Identify and understand the different conceptualisations people use when talking about branded content
Develop a definition that helps to clarify the concept for a broad range of stakeholders and therefore supports the progress of branded content marketing practice
The first phase of the study – a literature review of practitioner and academic publications – has resulted in the development of a new definition of branded content and the uncovering of emerging themes that will help organisations to harness the power of branded content. These initial findings are presented in this chapter.
Research Team:
Bjoern Asmussen, Senior Lecturer in Marketing, Oxford Brookes University Business School
Bjoern leads the Branded Content Research Team at Oxford Brookes University, which includes Andrew Butler and Dr. Nicolette Michels.
Sarah Gale, Senior Director, Ipsos MORI, Media, Content and Technology Division
We're delighted with the first phase of the results. One of the other elements of the study is that we've developed a new methodology for brands to plan effectively for branded content, using it as a core part of their marketing strategy.
Andrew Canter, CEO, BCMA
You can read the full article over on the Best of Branded Content Marketing (BOBCM) site. It's based on the findings from Phase One of the Academic Research Project by Oxford Brookes in partnership with the BCMA and Ipsos MORI was originally published in Best of Branded Content Marketing: Volume II. Phase Two of the study is under way and its findings will be published in 2015.