The Bulbshare Content Hub will bring you weekly content from the world's leading co-creation experts, Bulbshare.
Bulbshare connects the world's leading brands to customer communities all over the world, providing millions of real-time insights and ideas direct from the voices of real people. They've worked with the likes of Samsung, Vodafone, Coca-Cola and Unilever, plugging them into customer communities for co-created campaigns and authentic user-generated content.
This week: Why The Great Outdoors Is The Next Frontier Of Brand Marketing
By Michael Wylie-Harris, Content Director at Bulbshare 
T

he outdoors has never been more 'in'. Recent years have seen a range of once niche pastimes hit the mainstream, with outdoorsy brands like Patagonia and The North Face enjoying a whole new cachet as the masses look to show off their rugged credentials.
From wild swimming, camping and kayaking to bouldering, trekking and climbing – everybody's at it. If someone told you ten years ago that two of the hottest labels on the high street would be climbing brands, would you have believed them? It used to be only geography teachers wore 'outbound clothing', now it's fashionistas, rappers and popstars.
So, what's prompted the shift? Why are more and more people jumping on the outbound bandwagon? And what is it about the last decade that's made people go 'wild' for the great outdoors?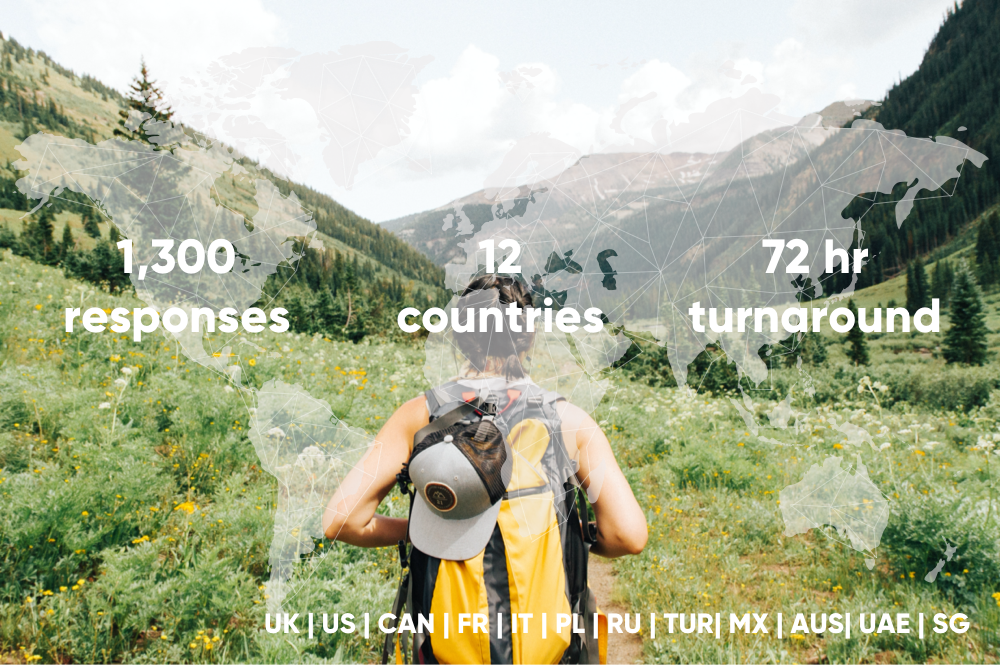 We asked our global community why it's more important than ever to connect with nature and spend time in the outdoors. The answer is overwhelmingly about mental health and wellness – and it's a reaction to anxieties surrounding social media, technology and the digital age. Your North Face puffa might be bang on trend – but it's also about what it represents: freedom, escape, physical endeavour, the big, wide world. The antithesis of what for many are the trappings of modern technology.
Outbound boom
The Association of British Climbing Walls (ABC) tells us numbers of climbers are growing by 20% year-on-year. While the Outdoor Swimming Society saw numbers grow to 70,000 in 2019, compared with just a few hundred ten years before. Our global community is part of this trend. 78% of our Bulbsharers now go on holidays that are based around outbound pursuits and 40% do outdoorsy activities once a week or more. When asked about the types of things they get involved in, hiking, camping, cycling, wild swimming and fishing come out on top.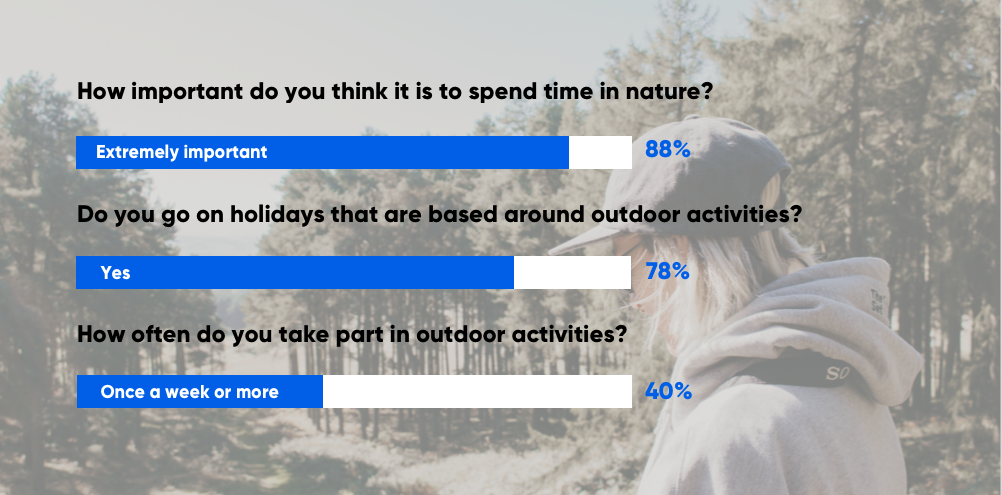 The motives

97% of our community say connecting with nature can help with their mental health. But even before we directly asked that question, an overwhelming majority mentioned it when talking about their love of the outdoors – drawing associations with positivity, calmness, self-esteem and beating anxiety. And just as our community associates the outdoors with positive mental health, they blame social media for those anxieties they need to escape. 89% of our users said connecting with nature is more important in the age of social media, and in our open text responses, social media and technology loom large in our word cloud.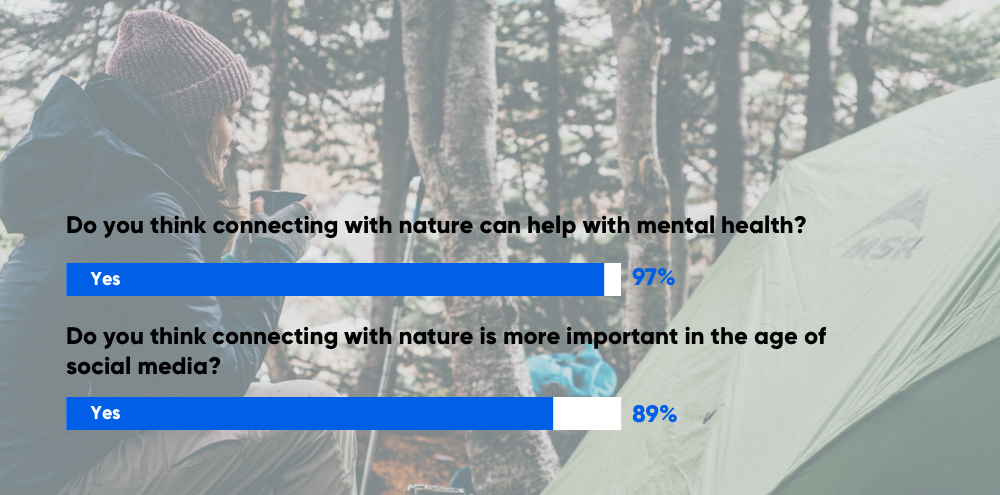 Return to the source
What we are seeing is a mass reaction to the pressure of social media and the trappings of modern technology. As people's lives are increasingly being made more tracked, more monitored, more digital, nature offers the exact opposite – freedom, calmness, release.
The great outdoors then, can be seen as a new frontier for brand marketing, messaging and positioning. Brands should be aware of the new role nature has to offer in the lives of consumers – as well as their concerns about technology and the impact of mental health. It's time to bake 'the great outdoors' into campaigns, competitions, and content. Wild swimming and outbound holidays are no longer the preserve of a niche, 'intrepid' crowd – they have mainstream relevance and mass appeal.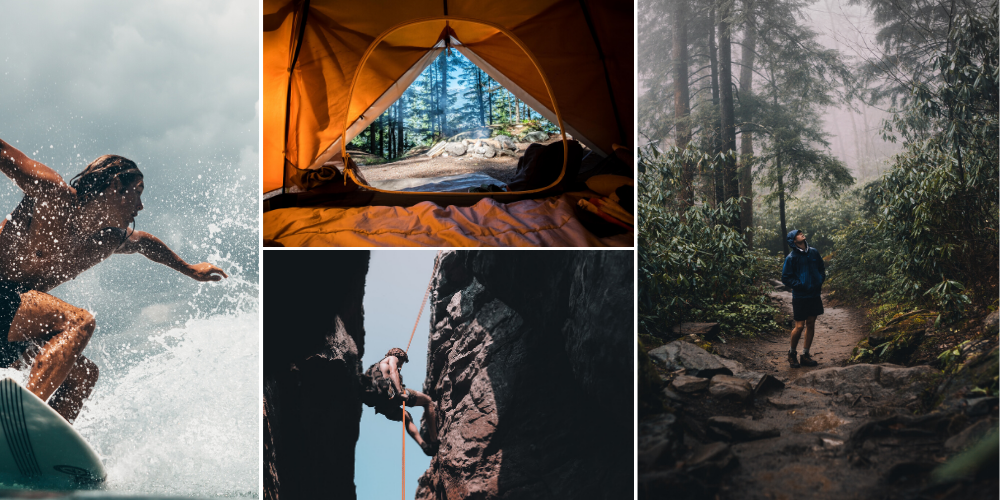 Key Quotes 
"(Spending time in the outdoors) is paramount for our mental and physical health. Whenever I am struggling, a walk is the perfect way to clear my head…" (Bulbshare user, 29, UK)
"I like to get outside… It's nice to get a chance to disconnect from devices and get a bit of sun." (Bulbshare user, 37, Australia)
"In this day and age of people with eyes always glued to a screen, it is important to get outside and look around. To get the wind in your hair and the sun on your face is a great way to relax and recharge." (Bulbshare user, 66, UK)
"It is a soothing mechanism to be able to connect with nature – I find it calming and relaxing for both my peace of mind and my relationship with others." (Bulbshare user, 43, Toronto)
"Because only when I have close contact with nature, I feel that everything is possible…" (Bulbshare user, 28, Poland)
"We all know that nature gives us peace and health. Outdoor activities make us feel calm and relaxed and can ease tension and depression." (Bulbshare user, 18, Malaysia)
"Social media is exhausting for our brains – unlike anything that has come before…" (Bulbshare user, 30, Poland)
Our global community is committed to outdoor pursuits: From hiking and trekking to climbing and bouldering, the great outdoors is seriously in vogue.
Positive mental health: The outdoors is seen as an escape from technology and social media and the assault on mental health that these represent. Outdoorsy messaging should be framed around positivity, calmness and escape.
Bake 'the great outdoors' into campaigns, competitions, and content. Wild swimming and outbound holidays are no longer the preserve of the niche, 'intrepid' crowd – they have mainstream relevance and mass appeal.
To find out how Bulbshare could benefit your organisation, please contact Michael Wylie-Harris on michael@bulbshare.com