The Bulbshare Content Hub will bring you weekly content from the world's leading co-creation experts, Bulbshare.
Bulbshare connects the world's leading brands to customer communities all over the world, providing millions of real-time insights and ideas direct from the voices of real people. They've worked with the likes of Samsung, Vodafone, Coca-Cola and Unilever, plugging them into customer communities for co-created campaigns and authentic user-generated content.
This week: Purpose Power – How to get brand cut-through in a sea of social purpose
By Michael Wylie-Harris, Content Director at Bulbshare
Brands are pulling out all the stops to convince us that they stand for more than just profit. Increasingly, we are seeing 'authentic stories' around moral purpose – and tangible actions showing us that they are 'committed to making a difference'.
In order to separate those that are getting real cut-through amid the white noise of moral messaging, we asked our Bulbsharers to tell us their favourite social purpose brands. Here's 10 examples of brands that are doing 'impact' in surprising, innovative and authentic ways that have genuine resonance with the real-life, everyday consumers from our Bulbshare community.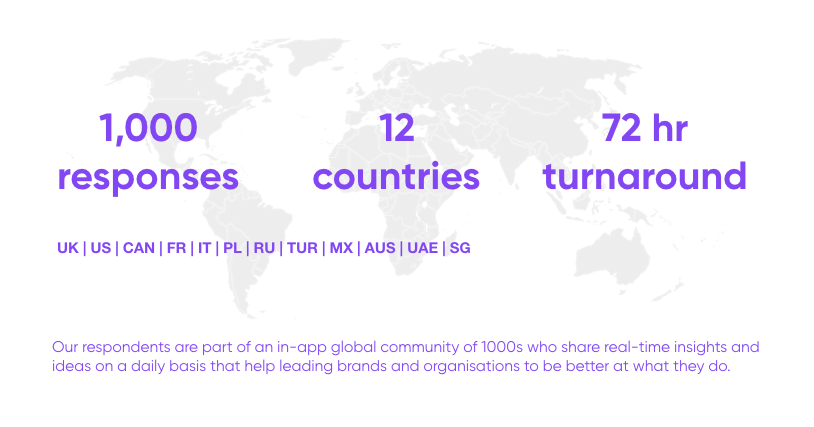 Sustainable products. Ethical, transparent processes. Social responsibility. Here's our top ten brands loved by the Bulbshare community for their moral stance and actions.
It may be getting boring, but The Body Shop crops up time and time again with our users whenever the topic of impact comes up. From their much publicised work against animal testing to their sustainable, ethical stance on how they source their products, this is still the brand everyone wants to be friends with.
This is a brand that gains authenticity through real life action. Conscious Coffee puts its ethical stance right at the heart of its branding, sourcing their ingredients ethically and helping out disadvantaged communities in the process.
The whole idea of ethical production has become the brand! Fantastic, right?" (Bulbshare user)
The Australian bamboo toilet paper company that is committed to changing lives, and does it with a smile. Using entirely recyclable materials and donating 50% of all their profits to provide toilets to those who don't have them, this brand is founded on a mission to help those in need (while also making very nice toilet paper)

Leading the way in the tech industry when it comes to sustainability, Dell has already exceeded its 2020 goal of using £50m worth of sustainable materials in its products, and is now committed to a far reaching 2030 plan for advancing sustainability.
Dell is setting an example for tech companies, who can contribute to (reducing) the massive toxic waste (caused by) non-decomposable plastics and components globally with their need to have buyers buy NEW every year, by addressing their environmental impact." (Bulbshare user)
Obviously, we couldn't really do this without giving Patagonia a mention. The Argentinian climbing brand featured heavily in our Bulbshare responses. From innovatively recycled products, sustainable materials and, seemingly, not really caring about profits (they once did an ad telling you NOT to buy their clothes if you didn't really need them), these guys just keep getting everything right.
In 2018, Under Armour put all their sporty might behind their global 'Unlike Any' campaign which supported women in sport, celebrating female sporting achievements and shining a light on gender discrimination.
With their strapline, 'together we'll make chocolate 100% slave free,' Tony's is on a mission. This loveable chocolate brand is 100% committed to the cause and invites all their customers to get involved
With its 'Save money live better' slogan, Walmart has become a philanthropic giant, committed to delivering value and providing affordable food to communities all over the world. With their impressive food bank donations, nutritional education and breakfast in the classroom programmes, they are wholly involved in numerous schemes to improve the lives of not just their customers but vulnerable people everywhere.
It may have been tarred with some negative press around tax avoidance in the last few years, but Starbucks is highly regarded by our Bulbsharers for its strong stance on moral purpose – being mentioned time and time again in our brief. The global coffee chain leads the way when it comes to sustainability, pushing the use of reusable cups, eliminating plastic straws and promoting sustainable farming processes. Their Grounds for your Garden initiative, that encourages the re-use of coffee grounds by giving them out free to customers to enrich their gardens, is just one of many schemes by the company to reduce the environmental impact of its stores.

…For this and what Starbucks represents, I admire and adore this company." (Bulbshare user)
The world's second biggest sports brand is also pretty committed when it comes to purpose. Implementing environmental and labour policies to promote fair trade and sustainability, as well as founding and being part of non-profit initiatives that fight for worker equality and better standards of production, Adidas is way more woke than you might think. They don't shout about it, but they're doing all the right things.
They (Adidas) are a member of the Sustainable Apparel Coalition, a global alliance of retailers, brands, suppliers, advocacy groups, labour unions and academics who fight for the sustainable production of textiles, apparel and footwear." (Bulbshare user)
Key take-outs
Choose the right cause. Box ticking around ethics and sustainability is standard practice for every organisation these days. Picking an original cause that has relevance for your brand and its customers will really resonate. Be led by your brand pillars and mission – your core purpose should emerge from what your brand stands for.
Put purpose at the heart of everything. For brands like Conscious Coffees and Tony's Chocolonely, their cause is central to everything they do. It puts them on the map and informs everything they are about.
Publish your results and show the real-world difference you are making. Who gives a crap? publishes the stories of the lives they are changing – showing their customers that there is real action behind the messaging.
Talk to your customers and find out the causes they want you to get behind. British skincare brand Simple worked with Bulbshare to ask a community of 1,000
customers across the UK and the US about the social issues that resonate with them in order to help position and articulate its moral purpose campaign.
Check out our case study here
To find out how Bulbshare could benefit your organisation, please contact Michael Wylie-Harris on michael@bulbshare.com