The Bulbshare Content Hub brings you weekly content from the world's leading co-creation experts, Bulbshare.
Bulbshare connects the world's leading brands to customer communities all over the world, providing millions of real-time insights and ideas direct from the voices of real people. They've worked with the likes of Samsung, Vodafone, Coca-Cola and Unilever, plugging them into customer communities for co-created campaigns and authentic user-generated content.
Get a free demo of the Bulbshare technology by clicking here
This week: BRAND HEROES – FIVE brands doing all the right things in the midst of Covid-19
By Elizabeth Johnson, Content Manager at Bulbshare
In the last six weeks, the outbreak of Covid-19 has irreversibly transformed our lives. Our homes are no longer just homes, they are offices, classrooms, and gyms. We are cut off from friends and family, and socialising via screens. We are living, shopping, working differently.
Across the globe, thousands have lost their lives, and millions have lost their livelihoods. Governments are taking drastic, unprecedented measures to support their economies, their health systems and their people, while individuals are doing what they can to raise money and moral.
Amidst the turmoil have been beacons of light. In a time of isolation, the idea of community has never been more important. We've seen waves of clapping, live music from balconies, army captains raising millions. We've seen businesses stepping in to donate ventilators, and industry turning its hand to new innovations.
Global brands have also been going above and beyond to help out in this time of need – with everything from simple donations to far-reaching support initiatives. With that in mind, we asked our global community to tell us who their brand heroes have been during the epidemic. Here's a list of their top five. It's as surprising as it is inspiring…
DoorDash

Food delivery services like DoorDash and UberEats have become game-changers in a world where going out to eat is prohibited, providing meals to families every day, while promoting health, safety and social distancing. Both DoorDash and UberEats are providing free protective equipment to their employees. DoorDash has also rolled out a commission relief and marketing support programme for independently owned restaurants that could be hurt by lack of customers. They have added more than 100,000 small businesses to their app, offering no commission fees, $0 delivery fees, and over $20 million in marketing efforts to generate revenue for independent restaurants already on the app.
"DoorDash has been a lifeline of breaking the monotony while I have been quarantined at home. My wife and I can broaden our pallet with foods that we cannot, or do not want to, cook at home! Thank you DoorDash Hero!"
(Bulbshare user, 34 🇺🇸)
"During this coronavirus pandemic, Uber Eats is being a hero bringing quality food to our homes when we request it."
(Bulbshare user, 33 🇧🇷)

Google

Google is supporting people in more ways than one. They are making it easier to stay connected with loved ones, co-workers, and students when virtual communication is the only option, by making premium features of their
Google Hangout
technology free to everyone. In addition, Google has set lead the way with unique relief efforts, such as giving $25 million worth of advertising credit to the
World Health Organization
(WHO) and donating over $1 million to purchase medical supplies and provisions for frontline workers. Google technology is also being used in the research of the virus's structure.
"Google has launched free access to the premium features of Hangouts Meet, its video conferencing platform, until July 1, 2020. Resources that were previously only available in the Enterprise version are now accessible to all users of the platform."
"Google will give out $1,000 to families affected by coronavirus. The Google Foundation, together with partners, launched a campaign in San Francisco to support families affected by coronavirus. The action involves the assistance of about 5,000 families."
(Bulbshare user, 30 🇷🇺)
With our work, education, and social lives now being entirely online, having access to wireless data is essential. Verizon, along with many other phone service providers like AT&T, Vodafone and Telstra are making sure their customers can still afford to stay connected on their devices. Verizon is waiving all late, international, activation, and upgrade fees, along with free extra data plans up to 15GB. And, they have a variety of free calling packages and learning tools available for healthcare workers and teachers.
"Since the lockdown, they have given customers unlimited mobile minutes, so they can keep in touch with friends and family, plus a 10GB data boost so you can enjoy being online whilst isolating – very generous!"
(Bulbshare user, 47 🇬🇧)
"Probably Telstra. They have given us unlimited data on our internet plan until the end of the month to help with the extra load of home schooling and working from home."
(Bulbshare user, 37 🇦🇺)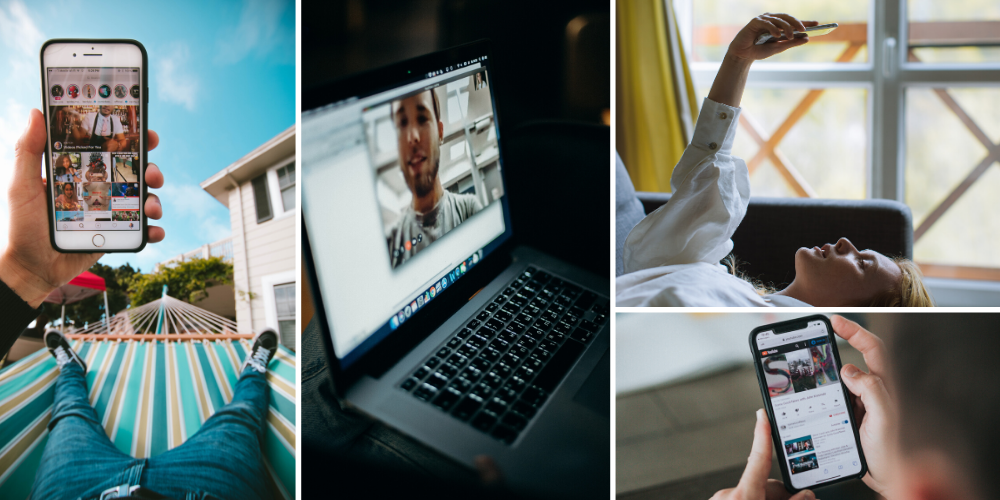 Hundreds of gin, vodka, whiskey, and beer distilleries and breweries all over the globe are halting their alcohol production and switching to making hand sanitiser in an effort to keep up with demand while keeping it at affordable prices – AND keeping their employees on the payroll. Popular brand names in the UK like BrewDog have donated sanitiser to local charities and care facilities. 58 Gin has even created personalised bottles of hand sanitiser, where you can pick your own scent, colour, and label.
"Seems like many companies have shifted their capabilities to do something to help. We have a local brewery MKT Distillery that is making sanitizer for the local area. That's pretty awesome to me."
(Bulbshare user, 37 🇬🇧)
"There is a local vodka brewing company that changed their whole operation to make hand sanitizers for our local community in New York state. They are selling them at affordable rates and truly stepped up to the plate. Kudos to Uncle Jumbos!"
(Bulbshare user, 39 🇺🇸)
The Body Shop

While cosmetics brands may not come to mind right away in the fight against Covid-19, The Body Shop is setting an excellent example of tackling issues that are a direct result of the virus. In addition to keeping all of its employees on their payroll and donating over 30,000 soap products to vulnerable communities and hospitals, they have teamed up with No More to support and provide resources to those trapped in domestic abuse situations due to stay at home mandates.
"The Body Shop has partnered with NO MORE, an organisation dedicated to ending domestic violence and sexual assault globally. Together, they formed the Isolated Not Alone campaign, which hopes to raise awareness of the hidden dangers of enforced lockdown through sharing vital information for survivors and by calling on governments to prioritise the issue and provide additional funding to support domestic abuse services."
The real heroes – the front-line health workers
And of course, our global community is thankful for all the health care providers facing the coronavirus head on every day – the real heroes risking their lives to protect and care for those affected.
"For me the best heroes are all the doctors and nurses. They help us as they can."
(Bulbshare user, 34 🇵🇱)
"The medical practitioners helping to handle the spread of this coronavirus. I know this isn't a brand but they're covid-19 heroes."
(Bulbshare user, 38 🇺🇸)