We've teamed up with BCMA members, Bro Cinema, to bring you the Love Brands series, featuring the best examples from their extensive library. Bro are an independent production company based in Lisbon that prides itself on closely collaborating with its clients to create the highest quality content
The theme for this week's branded content is
'Dream and go for it':
Mercedes and Amorim: A Surfboard To Garret McNamara
In 2013, Mercedes-Benz hands big wave rider Garrett McNamara a unique surfboard for his huge rides in Nazaré, Portugal. An initiative made possible with the partnership with Corticeira Amorim. Bro Cinema was given the responsibility to tell this story, with Mario and Pedro Patrocínio as creators and directors.
See the Branded Content Video:
Mercedes-Benz Portugal, in partnership with Corticeira Amorim, announced the development of a new surfboard made entirely out of Portuguese cork intended for the Hawaiian surfer Garrett McNamara to tackle the giant waves of Nazaré, one of the most popular seaside resorts in Portugal. This 100 percent Portuguese project was supported by Polen Surfboards, a Portugal-based company that built this new surfboard.
The 'MBoard' project resulted in the production of the silver arrow of the seas, designed by BBDO Portugal and culminated in the production of a series of three new boards aptly titled 'The Silver Arrow of the Seas'. MBoard was the result of collaboration between dozens of designers, researchers, aerodynamics and materials development experts and the professional surfer Garrett McNamara himself. They all contributed to the production process of an ideal surfboard capable of enduring and riding the monster waves at Nazaré Canyon.
Mercedes-Benz has taken this challenge further by developing a surfboard entirely made of a local material, traditionally used to manufacture bottle stoppers.
See the Making of – Amorim´s surfboard production: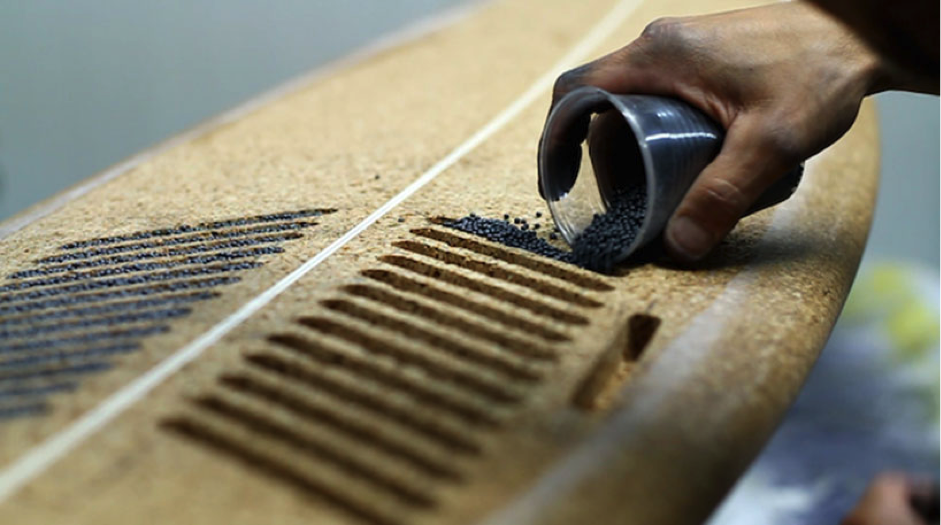 Since Portugal is the world's largest cork producer, it makes perfect sense to use this material to make high-performance surfboards for surfing in Nazaré. when we surf big waves, we need a flexible board, although resistant enough not to break." Garrett McNamara, Professional Big Wave Surfer
See the Garret McNamara testimonial:
The responsibility of putting Nazaré's big waves on the world map is so great. I am super proud, super honoured and grateful. I couldn't have imagined a better outcome. I couldn't have imagined a country expressing so much love and it is mutual. The love I have for Portugal and the love that I receive from Portugal is above and beyond anything I've ever dreamed about or expected.
At Bro Cinema we had some doubt that the circumstances we committed to were almost impossible to deliver, because when you go on a surf trip you go 'when the waves are going to come' and you stay. Either you go there and the waves come or you stay when they are coming. It was totally the opposite because we were on a very strict timeline, so whenever we went, the waves just left, and whenever we left, the waves kept coming. I was very concerned, worried and scared that we wouldn't be able to produce and luckily, Bro were the most uplifting, fun, positive and cool people to be around and at the same time super professional.
Whenever anything happened, they made the best of all situations, all the elements that were available, they made the best of everything. I did not see, in my wildest dreams, I did not see such a good outcome. I couldn't have imagined how we could come out with a good product. Well, we got this film and Bro put everything together way beyond anything I could have ever imagined, it was one of the best experiences I had without waves, especially in filming and production, it was definitely the best experience I've ever had.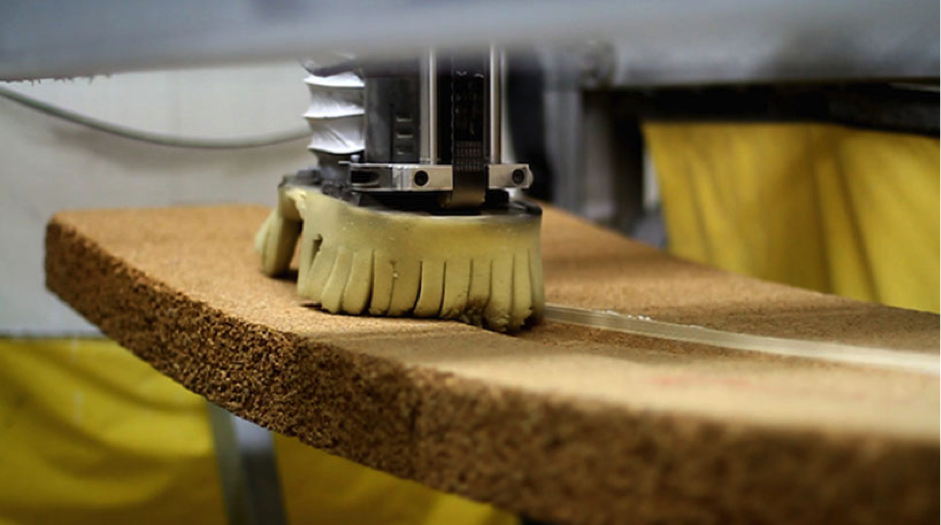 Corticeira Amorim was proud to be involved in this project, which is proof that Portugal can design and provide the world's most demanding organisations with innovative solutions in terms of quality and design." Carlos de Jesus, Corticeira Amorim's head of Marketing and Communications
Galp: Leave everything on the pitch, Portugueses in France – Euro 2016
In 2016, JWT Lisbon, had the objective to develop Galp's (one of the biggest Portuguese Energy Company) campaign – as official sponsor of the national team – focusing more on merit, rather than the usual party associated with football.
More than 1 million Portuguese people live in France, having emigrated there in search of a better life. Galp could not forget them and their examples of work, overcoming challenges and success. They would be the example that the national team needed to win the Euros.
If the Portuguese emigrants could win in France, then so could the national team: There are more than a million Portuguese people in France who everyday leave everything on the pitch. This time they are counting on 23 more.
Bro Cinema was there to capture the different lives and realities of the Portuguese community in France:
See the Branded Content Videos:
Video #1
Video #2
Video #3
Video #4
The director was Mario Patrocínio and Rui Dias was the editor. Due to the narrow delivery deadline, Mario suddenly had to fly from Lisbon to Paris with no suitcase, to work on the project. This is what he said, when he was asked about the experience and the importance of editing in real time:
I traveled with an iMac as my main luggage. This was only possible thanks to the fantastic Bro Production Team that was able to solve this situation in a short time.
About editing on location…
Good question! It's more common on commercial sets, where productions have quick turnarounds and must be absolutely sure that they get the shot. Not only does the shot need to be precise, the product featured in the commercial must also look perfect. Clients and Producers are now requesting location editing more than ever and it's not just the news that is under strict deadlines. Now corporate clients request location editing with their video crews so they can upload a final edited piece in a couple of hours.
So editing on location brings several advantages:
Follow the shooting
Cut the footage on set
Edit a first rough cut
Show the first cut to Director and client
Ricardo Vieira, one of the characters, is a professional pianist that went to Paris to study piano and still lives there:
I felt so proud of the campaign! I had Portugal in mind all along and I just wanted to do my best. It was quite challenging as well! Of course it was inspiring, I just had to close my eyes and let the music go. I always follow the sound since very early on. Even if I don't like the rain, I love how it sounds. When I saw the movies I was overwhelmed! It's quite a thing to have your work broadcast and heard by so many people at once!" Ricardo Vieira
See the Case Study Video of the project:
*The project was really, really special! We had been waiting for a moment like that
(Portugal's European Champion in 2016) for such a long time. And after the celebrations we couldn't help thinking about this campaign's role on the Portuguese players motivation: four players at the Euro were portuguese immigrants sons, born in France and Germany. Better than anyone, they knew what we were talking about." Tiago Cruz, Creative, JWT
(*At this time, Tiago had no idea Portugal would win the Euros!)
When asked if the branded content 'worked'…
Sure it worked: we won the cup! And above all, we were the first big Portuguese brand doing a campaign with and about our immigrants, telling their stories of hard work, resilience and success. Using these stories as examples and motivation for our squad had a huge impact both in Portugal and in the Portuguese communities abroad. This campaign made our immigrants extremely proud and helped fight the prejudice that still exists against them. It was a major win in many pitches. And – I don't know if i already mentioned this – WE WON THE CUP, MAN!"