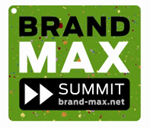 BrandMAX brings together a cross-section of like-minded marketing directors and CMOs for a collective rethink. A unique opportunity to take a step back and assess common practice, gain new perspectives, ideas and inspiration to fine-tune and propel the effectiveness of your marketing and brand.
BrandMAX gives you access to architects of some of the world's most impactful marketing and communications – those who are at the leading edge of brand optimisation and are driving top marketing ROI.
Designed by leaders in marketing, for leaders in marketing, this event gathers more than 150 key executives from the world of marcomms to tackle the biggest challenges in the industry, as an industry.
Through a compact one-day programme, packed with only the core issues the industry are facing in driving return from their marketing, this event will feature a range discussions, break-out sessions and interactive voting so that you get the chance to make the most of you time and take control of the agenda.
Creating a competitive advantage for delegates, BrandMAX is THE place to be to find out the latest trends, insights and developments in optimising your brand and ROI.
For more information, please visit: http://www.brand-max.net