The second of BCMA's Back to the Future of Branded Content series took place at Lions Entertainment part of Cannes festival and featured Mattel Inc. It took the audience on a fantastic journey spanning 70-years sharing the incredible story of how a toy company started in a garage workshop in Southern California became one of the biggest and well known brands in the world.
Mattel was a company founded on creativity and innovation by Ruth and Elliot Handler. They were visionaries who understood that in a world where kids were surrounded by media, toys would have to tell engaging stories. Ruth watched her daughter Barbara at play with paper dolls, and noticed that she often enjoyed giving them adult roles. At the time, most children's toy dolls were representations of infants.
Realising that there could be a gap in the market, Handler suggested the idea of an adult-bodied doll to her husband Elliot. Sparked by this, Ruth wanted to create a doll that would show little girls they could be anything they wanted to be and that a 'woman has choices'.
My whole philosophy of Barbie was that through the doll, the little girl could be anything she wanted to be. Barbie always represented the fact that a woman has choices." Ruth Handler, President, Mattel Inc
On a trip to Europe in 1956, Ruth saw a doll that looked like an adult woman, vastly different from the baby dolls most little girls owned, including Barbara. Ruth was inspired. Three years later, on March 9, 1959, at the American International Toy Fair, Mattel's version, Barbie Millicent Roberts, was born. Barbie quickly became a global icon and consistently remains among the most recognizable personas in the world.
Innovation became a hallmark of Mattel operations. We were unorthodox, venturesome—our people were willing to try new things. This quality, more than any other, has been the key to the company's progress." Elliot Handler, Co-Founder, Mattel (1968)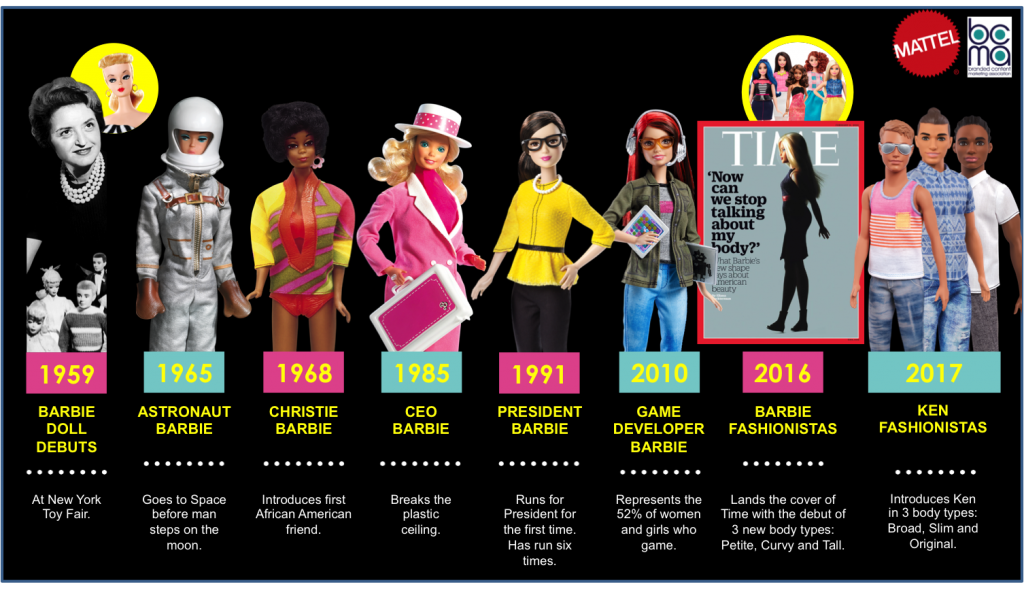 The Handlers were particularly inspired by how their friend, Walt Disney, was creating a new kind of character-based family entertainment and bet their entire company on advertising in Disney's new and unproven TV shows. Mattel created the first television advertising for kids, rooted in kid-targeted stories that brought their toys to life. In 1959, Barbie made her first TV appearance in a commercial within an episode of the Mickey Mouse Club.
Today, Barbie is still a reflection of culture by representing diversity in skin, body and shape girls see in the world around them. Through endless reinvention and cultural shifts, Barbie continues to be a girl's first advocate for empowerment and a steady reminder that 'You Can Be Anything', a campaign that kept the original Barbie message at its core in 2015, but modernised the storytelling and delivery by launching digitally first and television second garnering more organic views than paid. The 'Imagine the Possibilities' campaign, created by BBDO, is a great example of how Mattel is approaching branded content.
Ruth and Elliot's original belief in creativity and innovation is as prevalent now as it was when Mattel was founded. The Barbie doll has become one of the world's most recognisable brands and shaped the future for the company. Continuing their commitment to content, Mattel has now formed Mattel Creations (the original name of the Handlers Company) putting content innovation back at the forefront of everything they do, with a mission to reinvent Mattel's consumer engagement model.
Mattel is firmly committed to consumer-focused storytelling, and creating a new foundation of relevance for their brands whilst retaining the original mission – keeping story at the center of the experience.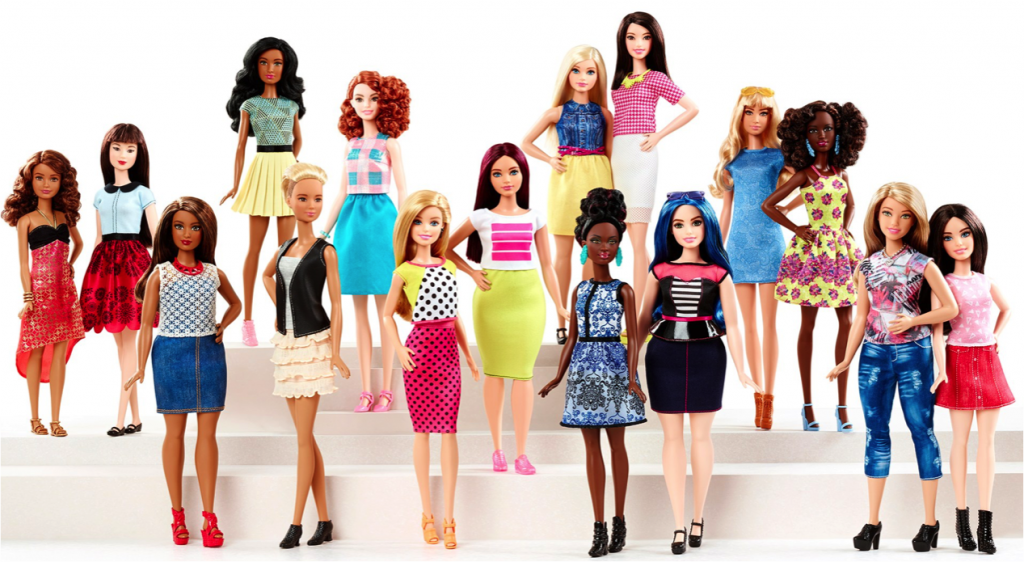 What has changed, with the inexorable shift of media consumption to mobile and digital, is to create stories that allow kids to engage, participate, and live these experiences across a multitude of platforms and in particular, social media.
Today content and story no longer come from a singular source; the arrival of the digital age has launched a universe of disruptive platforms. Mattel are creating adaptive content – short and long-form – leveraging technology platforms to connect with kids who have become both the consumer and creator. Toys are no longer merely being toys; they must be part of a larger world of stories and ideas. Barbie Dreamhouse has seen the brand evolve into long form branded content.
And so to the future. What is the future of Barbie and branded content for Mattel – where and how do you go next?
The 'Dad's Who Play Barbie' was a campaign created by BBDO, and kicked off during the NFL playoffs. The campaign was based on key insights showing the reality of good parenting in a fascinating and innovative way. Dads might like to indulge in 'macho' activities in their free time, but they're also happy to play with dolls with their daughters.
Barbie will now be featured in a live-action feature film produced by Sony Pictures. Relevance must be cultivated daily, the immediacy of social media and content will play an even greater role for this iconic brand going forward.
We do hope you have been inspired by the amazing story of a company that was founded on 'creativity and innovation' through incredibly powerful and entertaining branded content and continues to push the boundaries today.
A huge thank you to all the panel members and the team 'behind the scenes' that helped to tell such a great story.
This is a representation of the BCMA Panel: Back to the Future of Branded Content With Mattel that took place on the Inspiration Stage at Lions Entertainment, part of the Cannes Festival.