It's a coincidence that I am writing about the idea of light becoming sound, while traveling in Northern Italy. Here, the natural light of the sky was the stepping-stone of many classical painters, particularly Caravaggio, known as the Godfather of Cinematography. But, I am not here to talk to you about that. This is about the light of sound…Let me explain.
I have been studying sound – soundscapes, opera, music, particularly soul, funk and rock – intensively. By studying sound, I want to be able to marry music with filming. What I strive for, as an artist, is to create something visually that you can watch over and over, like music.
At the start of this, I met up with Bob Beemer, the sound mixer for the "Bourne" movies and "Gladiator" – some of my favorites! I told him I loved the "Tangier Fight" in "The Bourne Ultimatum"– running on roofs ending in an epic fight sequence. Without a beat, he suggested I re-watch "The Bourne Identity" car chase and listen for certain things.
This was my starting point for hearing textures.
Sound Studies Part I: Art
I was interested in studying everything, so I attended various workshops in L.A. & Toronto for audio hacks, electronica, etc. One of those nights I heard something that had never graced my ears before. It was an opera performed on a lake, in the Rockies. These artists created a 5.1 sound system using the lake itself. Like a surround sound system, with a center channel BUT they used rocks and trees as deflectors and absorption materials.
The opera performance was to start at sunrise. As soon as the sun appeared over the rocks, this piercing voice would start to sing. It was Angelic! The hair on the back of my neck stood up. The loneliness of her voice was gripping. I was enthralled by the creativity.
After this, I started to frequent the Lisbon Philharmonic Orchestra (where seats cost just €22). As I watch the musicians in the orchestra, I'm enjoying the sounds, but I'm looking at their movements – the conductor, the mechanics and seeing how I can translate that to other mediums.
As a director, I see stunt performers as instruments for the creation of movements. Similar to how a symphony orchestra creates sound and harmony, the stunt performers tell a physical story. Each involves fine-tuned instruments and skilled craftsmen.
One of the most amazing things I "experienced" was in Rome, in an old palazzo (palace), where each room contained art of that time, accompanied by musicians playing Arabic instruments from that time, and an opera soprano singer performing librettos from that same era.
Further south, in Pompeii, I went to the Amphitheatre where Pink Floyd played ("Pink Floyd in Pompeii") as well as where Roman gladiators fought back in the day. I came as close as I could to "experiencing" this historic concert, by viewing the images of the concert, listening to the music playing in the Roman corridors of the stadium, and standing in that arena. That experience must have had a quite effect on Pink Floyd as 6 months later they created the longest running number 1 album in history – 11 years – with "Dark Side Of The Moon".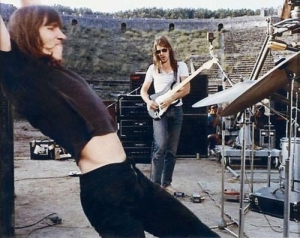 Earlier, in Germany, I went to visit Salzburg – the birth town of Mozart. It happened to be around Christmas so it was very festive, and you get a sense of how Mozart lived and what he saw each day.
In Nuremburg I visited the rally grounds where Hitler held his rallies. It was a dark and dismal day and what I saw that day was certainly not for the faint hearted. As I left, the building/museum there was a vista point that looks down into a holding area shaped like a horseshoe; it was a holding tank for the unwanted. At that very moment, on that ugly day, there were two huge black ravens fighting in the air. Because of the way the building was designed, as a horseshoe, there was a haunting reverb and echo from the fighting ravens. Of course my mind had been amplified with images the previous couple of hours.
Placing yourself as an artist in a different environment, locale, or arrangement WILL create a different final product.
In the middle of the medina in Fes, Morocco, I heard sounds so unique and so melodic, and there was an abundance of sound as I would hear this particular sound 5 times a day. It was a "Dorothy, we are not in Kansas anymore" moment. My mind would wander…Those layered sounds formed the visual kernel for my speed bike chase shoot.
Sound Studies Part II: Led Zeppelin
In the late 60s and early 70s, music was becoming increasingly creative on a technical level in the States and the U.K.
Listen to the production value of this cartoon of Spiderman- Jazz based:
The skill level was so high, that in these times, even in cartoons, music was used as resource for enhancement for the viewer – like how we use CGI now.
There was a lot of experimentation going on, and there's lot of folklore around this time, but it was the technical prowess that came to play. Phil Specter revolutionised production and post-production of audio recording with the Righteous Brothers, Beach Boys, etc. Drugs altered the culture…and those bowl cuts became long hair and shaggy. Long solos and musicians like Pink Floyd, Led Zeppelin, Hendrix, The Beatles changed music.
Music started to evolve almost annually. WHOs Quadrephenia was sort of the pinnacle of soundscape, in my opinion, was a type of a surround sound back then called – Quadraphonic. That was the virtual reality of its time.
Which brings to me Led Zeppelin.
Jimmy Page was one of most sought after session guitarists at this time, and he spent a lot of time in the studio watching the engineering and producing process. To make a long story short he got into the Yardbirds. When Jeff Beck left, he filled the shoes but eventually the band disbanded. That was a starting point for a magical time. During his session time, Jimmy had these "ideas" and basically what you hear on Led Zeppelin 1 and 2 is from his time as a session musician in the studio.
But it was Led Zeppelin 3, IV and Physical Graffiti where he evolved. He created a "studio" at Headley grange – an old manor house in the British countryside. You'll find that a lot of musicians followed suit with this concept afterwards. What he did, was to duplicate what musicians did for Chamber music in the Renaissance period. He had a foundation with sound principles and maxims that he explored.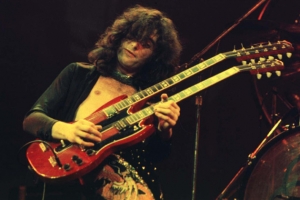 I listened to, read, and viewed everything I could on Jimmy Page and Led Zeppelin, including Peter Grant (their manager) who gave him the freedom to become the artists they were. His motto to them and to upcoming managers was "Believe in them." As I continued to dig I found revelatory statements by Mr. Page. After such, I reviewed their entire library including recording sessions, bootlegs, LPs, twice.
In the end, what Jimmy was trying to achieve was a sonic experience, a soundscape, musical landscape – essentially "creating shades of light and darkness." When light becomes sound.
Every true artist is trying to enlighten and imbue life.
You see each musician, "album", recording may have a tone, message, etc. Listening to Edith Piaf you get this deep melancholy, Ravel's Bolero with his playful but sensual undertones, Joni Mitchell's soothing and warm voice or N.W.A with an angry tone. Combining harmonics is the name of the game like "beautiful sadness". However, this is more easily attained with a visual medium.
I want to create an experience for the viewer as back in the day they did with music.
As I wrote in a previous article on branded content, what I'm trying to achieve is Branded Art. People are numb from being inundated with "content"! It's important to get to the core, and not rely on gimmicks, analytics, the latest trends or opinion leaders.
The written word has an effect in how it is duplicated and absorbed. Essentially, words are symbols like the peace symbol or the swastika…each are completely different and evoke different responses. The font itself could create an effect.
Coming in with the right wavelength will penetrate the soul despite the medium or genre and is much more senior than any analytic you'll ever find!
Science, music, sound, can all be avenues to creating a better product.
It was shortly after these studies where I searched for a sound designer and was fortunate to land the creative genius from the famed Formosa Group. Chris Smith was just coming off "The Revenant" and was recommended from Glenn T. Morgan, another veteran in the sound world.
This isn't about winning an Oscar, Clio, or Grammy, though of course, these will certainly help your career. It's about creating! This kind of work is a pretty easy sell to superstars IF it's a true collaboration, as they too want to create amazing things.
I am very fortunate to have the very best artists to collaborate with on my upcoming projects. This will be the ultimate collaboration combining mediums, fields and eras.
Dig deep…and make something special!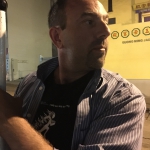 Lawrence Ribeiro is a Director who specializes in combining stunts, culture, movement and aesthetics forming Action Design. Lawrence has directed and shot well over 100 action sequences, from car chases and motorcycle stunts to fight sequences and has been mentored by the top stunt coordinators in the industry – Garrett Warren, Gary Powell and Andy Armstrong. His recent collaborations include editor extraordinaire Rick Pearson and Hollywood legend Doug Trumbull. Earlier in his career, Lawrence trained classically under well-known cinematographer Howard Wexler and Lane Leavitt, a top innovator in the stunt world.
Lawrence's love for action and the arts was fused in his unique upbringing. His father was a Navy frogman, professional rally driver and robotic engineer and his mother was a lover of all art forms. By the age of 21, Lawrence had traveled over 60,000 miles around the globe. His curiousity and sense for adventure led him to some of the most dangerous environments and jobs in the world, from heli-logging to mountain search and rescue to conflict zones.
Lawrence has written the book, The Unknown Art of Driving, and is releasing his second book, Action 101 – A Guide to 2nd Unit/Action and the Arts. He has written for ICG, MovieMaker and Filmmaker Magazines. Lawrence has given talks at the Art Center College of Design and at Film Independent, and currently serves on the Advisory Council for the Previsualization Society. Lawrence is honored to be a finalist judge for the Emmys. In his free time, Lawrence enjoys treasure hunting, Native American mythology/culture, 1960s-1970s African-American culture, art appreciation, hiking and hockey.
http://lawrenceribeiro.com/