Looking back over the past year, BCMA members, Nucco Brain are  still buzzing about the events they've hosted – from the insightful topics they've explored to the brilliant communicators who have been involved.
So let's take a look at a few highlights…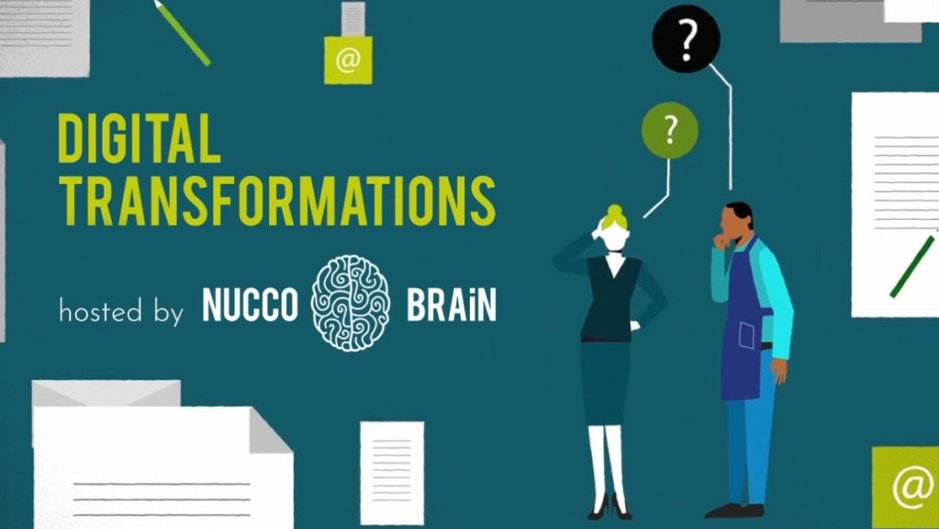 #DigitalTransformation #NuccoBrainEvents
Communicating your Brand's Digital Transformation (January 2019)
With Andrew Beale (Optimity), Darren Mee (RSM), and Jo Geraghty (Culture Consultancy), we explored what digital transformation means in a practical day-to-day sense. And not just now – but what it will mean for organisations in the future.
The brands that are making the biggest splash in this space understand that true digital transformation isn't driven by technology – it's driven by people. That's because it's about the roles of people in an increasingly digital future – and how they interact with technology.
To get it right, it starts at the hiring stage. It's vital to build a culture of transformation across your organisation, and it begins with getting the right people on board. From there, management need to be committed to following through and communicating this change clearly on an ongoing basis.
As we continue to discover what technology can do for society, our concept of what true digital transformation involves will keep evolving.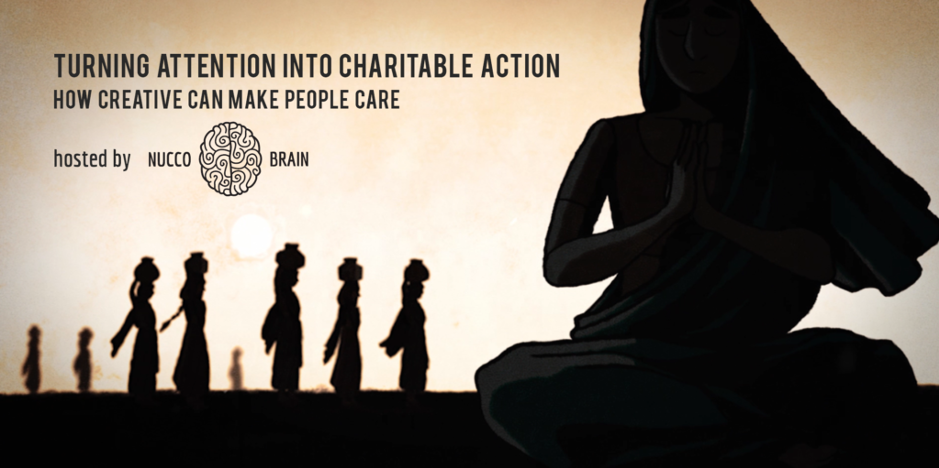 #AttentionToAction #NuccoBrainEvents
Turning Attention into Charitable Action – How Creative Can Make People Care (February 2019)
Digging into the use of creative and digital for building connection in the non-profit space, our panelists Antony Antoni(World Animal Protection), Steve Melia (WaterAid), and Dr. Niccolo Caderni (Raft Medical Research) dropped by to unpack the subject.
From issues like standing out in a crowded non-profit market, we discussed emerging trends – specifically, the exploding demand for video content. In tandem with the increasing popularity of technology, non-profits are also leaning more heavily into storytelling.
Which is hardly surprising. In terms of sheer emotive power, it's hard to beat. And for sensitive topics, animated content can be a safe way to communicate important messages without desensitising or turning off audiences.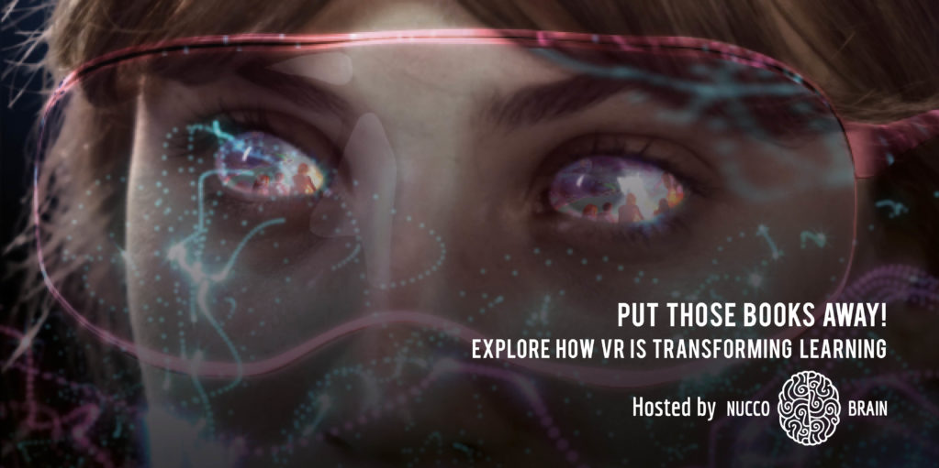 #VRforLearning #NuccoBrainEvents
Put Those Books Away! Explore How VR Is Transforming Learning (March 2019)
Immersive technologies are already fast becoming the new normal in modern learning. In this event, panelists Matthew Scott (Pearson), Nikoleta Yiannoutsou (UCL), and Joan Keevill (E-learning Network) looked at how it's used and its possibilities for the future.
We began by discussing the most effective use cases for VR, and how its unique combination of audio, visual and touch make it a valuable experiential teaching tool. From constructing an environment from subject matter like history or geography, or a safety lesson like simulating an evacuation, VR provides a safe space to fail – and learn.
With the speed of innovation, it's no longer an option to opt out of these evolving digital spaces.
The quality of what's possible is evolving at a breakneck pace, which means production studios are delivering better, more effective learning experiences.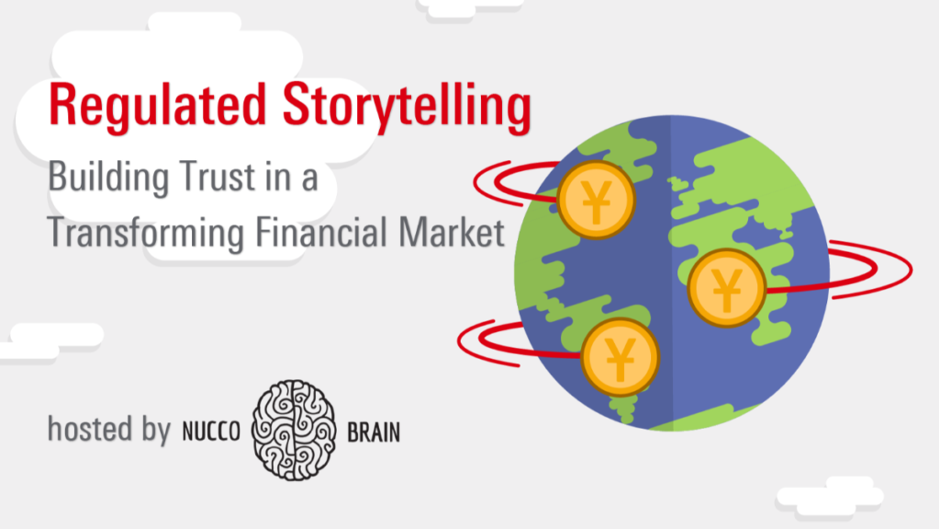 #RegulatedStorytelling #NuccoBrainEvents
Regulated Storytelling (April 2019)
Aimed at sharing different ways brands are approaching brand storytelling in financial services, Harry Ashbridge(Monzo) and Kate Bohn (Lloyds Bank) shared a few of their insights and experiences.
Starting with a few branding basics, we discussed how regulations are mostly concerned with what brands say. On the other hand, regulated storytelling is about using the way you communicate to get across the things that are important.
"Your writing is tangible evidence of your values." Harry Ashbridge." On top of this, it's working within the expectations we put on financial services. It doesn't make sense for, say, a bank to try to come across as cool and relatable. For most people, it's more important that their financial services are reliable and secure.
So trust is vital. That means it's vital to only tell stories you can back up – because the stakes are so much higher if you fail to deliver.
#ShapingInternalComms #NuccoBrainEvents
Constant Engagement – Shaping Internal Communications Through Storytelling (July 2019)

Jo Geraghty (Culture Consultancy), Stefano Marrone (Nucco Brain), and Kate Gray (Number Forty-One) chatted over the latest trends in internal communications, and how storytelling can help drive engagement.
As language is a narrative tool, stories help us find ourselves in a scenario, drawing themes and patterns – so the stories we tell our teams are really important. Animation helps to empower people in their roles, building supportive environments where employees are developed and nurtured.
With increasing diversity in workplaces, it's more important than ever to make sure messaging translates across audiences. Not only that, but the credibility of the messages has to feel genuine and authentic.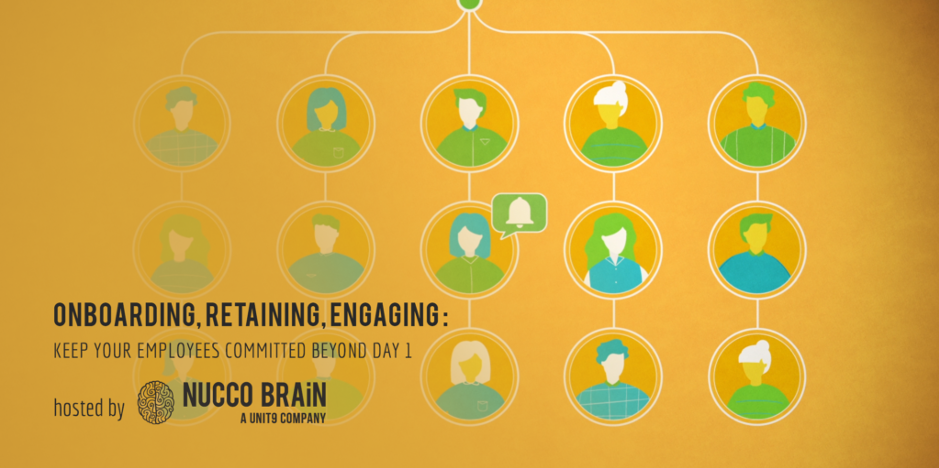 #OnboardingRetainingEngaging #NuccoBrainEvents
Onboarding, Retaining, Engaging: Keep Your Employees Committed Beyond Day 1 (September 2019)
These days, mobility is the new normal. More than ever, people are moving from role to role to build their careers. Alastair Gill (Giff Gaff), Jodine Perrin (De Beers Group), Shereen Daniels (HR Rewired), and Stefano Marrone (Nucco Brain) got together for a chat about bringing in great talent – and keeping them.
As corporate culture moves away from a consumer economy and more toward a social economy, brands need to future-proof their organisations. Part of this is creating a strong brand purpose, but it's also about putting people at the core.
This turns employees into committed, long-term brand ambassadors. But it only happens with a shift in HR – by making culture your product.
And this comes from consciously choosing ongoing integration, rather than the one-and-done approach of onboarding. Integration means putting your people on a track toward their future with your organisation.
#BeatTheBoring #NuccoBrainEvents
Creativity Within Boundaries: Beat The Boring (October 2019)
Restriction on marketing can come from all kinds of places. Industry regulations can be a big one, particularly for financial services and pharmaceuticals – but even internal compliance and brand guidelines can be tricky to navigate.
In this session, Jasmine Ferreira (J.P. Morgan), Alberta Soranzo (Lloyds), and Rammy Elsaadany (Barclays) joined us to talk about how they address some of these challenges and deliver powerful creative work.
To start, consistency in both what you say and how you say it across touchpoints helps create a recognisable, reliable persona that internal and external audiences can expect. Brand guidelines are in place to protect this persona – which means you need to know when you should say 'no'.
When it comes to pushing boundaries, the most important thing is to have a clear strategy explaining your rationale – because it's how you choose to communicate these ideas that will dictate whether stakeholders will be on board. And once they are, publishing behind-the-scenes content can be an effective way to show your strategy in action.
#GoingGlobal #NuccoBrainEvents
Going Global: Making Global Marketing Locally Relevant (November 2019)
Although localised marketing is a powerful way to communicate, sometimes brands need to communicate on a larger scale. But keeping messaging relevant and impactful is an art.
It was this alchemy that we took a look at with Luke Archer (Sterling Technology), Matt Thomas (Head), Natasha Wheatley (European Space Agency), and our own Head of Creative Strategy, Alistair Robertson.
First, consult the locals. With buyer behaviours varying from region to region, it's important to get insights into what is specific to a region and what overlaps. Because it's that sweet spot where behaviours align that you want to be in.
The other big takeaway from the session was finding the balance between brand consistency and market relevance. Being aware of regional priorities is a good start, but you have to make sure you're not compromising your brand too far. It's good to set boundaries for how far you're willing to bend to accommodate global messaging.
And lastly, it's important not just to have clear strategies for your messaging – but you have to have realistic expectations. Because you're making decisions based on the widest audience, you have to accept there will be groups that don't respond as positively – and develop strategies to reach them.
If you feel like you've missed out on an amazing year of informative insights, fear not, our events line up for 2020 is out already! Secure your tickets now.