Lucas Boudet is the Director General of the European Advertising Standards Alliance (EASA), an organisation that promotes responsible advertising by providing detailed guidance on how to go about advertising self-regulation for the benefit of consumers and businesses.
What is the EASA Alliance and how important is it to the ad industry
EASA, the European Advertising Standards Alliance, is an Alliance bringing together the advertising ecosystem which is committed to responsible advertising by adhering to high self-regulatory standards. These standards are independently enforced by self-regulatory bodies.
Trust and reputation are key assets for brand-owners; 30-50% of a brand's market capitalisation comes from its reputation. Upholding robust standards is paramount to ensure consumer trust. In this context, EASA and the SR system play a pivotal role as they are the guarantors of the credibility and robustness of those advertising standards.
To be more specific about our Alliance: on the one hand, EASA gathers 13 industry supranational association members which represent all the participants of the marketing ecosystem: advertisers, agencies and media (print, TV, radio, online, etc.). On the other, EASA is the umbrella organisation for a network of 27 self-regulatory organisations (SROs) operating in 25 countries in Europe, whose role is to administer and enforce national advertising codes of practice. SROs do not only handle consumer complaints but provide monitoring, advice, and training services to ensure an optimal implementation of ad standards.
EASA supports the self-regulatory (SR) network by setting high operational standards, through issuing best practice recommendations, covering, for instance, issues such as, jury composition or complaints handling, to ensure a high level of service everywhere in Europe. EASA acts as a facilitator for its vibrant network, fostering information and innovation sharing between its members. It also supports initiatives to expand the network in countries where advertising self-regulation is nascent.
Last but not least, EASA is active on the policy front to ensure the SR system is recognised by the European Union, and that the European legal framework provides space for it to grow and thrive.
Conformity of understanding is important e.g. #Ad, how do you manage to convey this
Marketers participate in the making of self-regulatory rules as code drafting is an inclusive process in which all relevant stakeholders take part. This initial intrinsic knowledge about the rules is increased complemented by training programmes and copy-advice services provided by self-regulatory organisations to ensure a widespread understanding and coverage of those self-regulatory rules.
However, when it comes to influencer marketing, this may be more tricky as some influencers might not be professional marketers and do not even realise that they are advertising products or services.  This is where the versatility of our network comes into play.
We strive to increase awareness of influencers and the rules on disclosure and responsible advertising by participating in influencer marketing forums and fairs. Our SRO network has launched numerous initiatives such as ad hoc communication campaigns with, for example, the '#ad' label in the Netherlands. SRO members also work with well-established influencers who spread the word to their peers. Some develop graphic animations and vivid code layouts to make the rules more understandable to influencers many of whom are not aware of legal terminology. Some SROs are also opening their membership to influencers, their agencies and multi-channel networks to further integrate this form of marketing communication in the self-regulatory system.
We are very active but addressing this community is a challenge given its fragmentation and diversity. The more relevant associations such as the BCMA can spread the importance of responsible advertising and SR code, the better.
For influencers, it is more often lack of knowledge than a will not to comply with the rules. Influencers have an interest in doing it right. They are their own brand and they know that if their followers feel deceived, they ultimately risk losing traction and tarnishing their reputation.
How many complaints a year do you receive, how's that changed
Our network received 56,779 complaints in 2018. This number has remained relatively stable this last couple of years. What is striking is the rise in the number of copy advice requests – an opinion rendered on the compliance of an ad before it is released – which has regularly increased every year to reach 97,481 in 2018. This trend represents a 25% increase over a 5-year period. This is illustrative of the will of marketers to get it right and avoid consumers being misled or offended.
Looking at complaints, in 2018 misleading advertising remained the most complained about issue (60% of complaints) but concerns over taste, offense and social responsibility remained high (38% of complaints). Digital marketing communications were the most complained about medium (43% of complaints), followed by audiovisual media services (33% of complaints). Advertisements for retail and leisure services, as well as health and beauty products and services were the most complained about.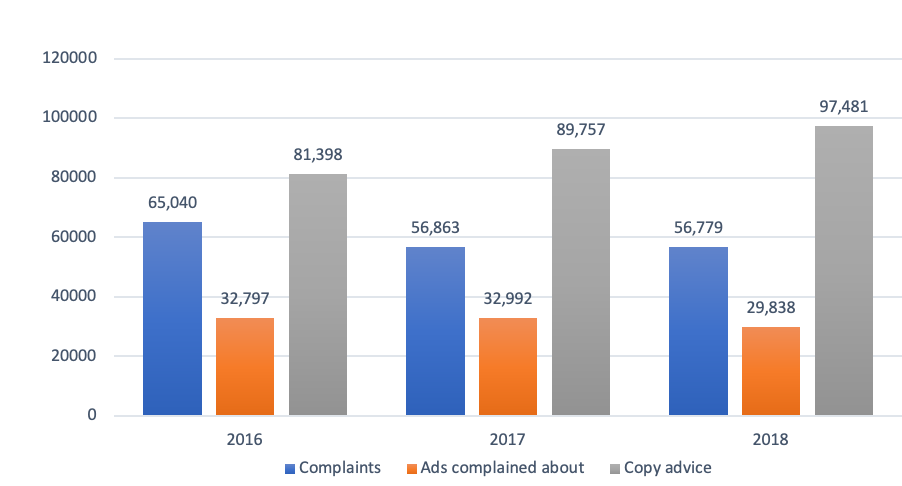 Isn't regulation only as good enforcement. Aren't too many people not abiding by the rules
Indeed, enforcement is key to ensure that self-regulation, or any form of regulation, is truly effective. Unlike simple commitments, the strength of the advertising self-regulatory system is that it provides an independent and accountable enforcement of the rules through its network of self-regulatory bodies across Europe. This is why EASA's network is recognised by the European institutions as a means to ensure advertising is responsible.
Beyond the rule there is the spirit. Overall, marketers who take part in our system respect the rules and take them seriously; this is why they often seek copy advice before launching a new campaign. Yet, should an advertiser not respect the rules, as a last resort, any consumer can always file a complaint if he or she feels offended or misled. Again, if the complaint is upheld, very often the marketer will follow the adjudication and consequently adapt or remove the ad. Marketers have no interest in deceiving consumers as this would hinder their much-valued long-term reputation. If this does not happen voluntarily, or with the assistance of other ad system actors (e.g. broadcasters, publishers) the SROs may report the non-compliant marketer to the relevant authorities.
How has Coronavirus affected the advertising industry in Europe
The coronavirus has definitely impacted the level of ad spend. It is too early to assess the long-term impact on the sector but with widespread lockdowns in many countries, purchasing opportunities have significantly deceased, available income has diminished for many industries and categories of the population. Some forms of advertising, such as out of home, are directly impacted. It is obvious that billboards draw less visibility when people are prevented from entering public spaces.
These times are challenging, and resilience will be key.
It is also a critical moment for ad self-regulation as issues of responsibility are under the spotlight with COVID-19 related misleading claims and online scams being flagged. Our network provides advice to marketers and handles consumer complaints, and, with COVID-19 ad related cases, it is no exception.
Our network is delivering. It has continued its operations ensuring a speedy handling of cases. Some of its members have provided specific advice on their website and developed fast-track services for COVID-19 related complaints. Furthermore, as did some of its members, EASA has issued a statement together with its international counterparts on the importance of responsible advertising and of not exploiting the current situation through misleading claims or sales of ineffective or mislabelled products.
The current situation is unique and showcases the capability of our network to help ensure responsible advertising and the genuineness of the ecosystem which stands behind our self-regulatory system.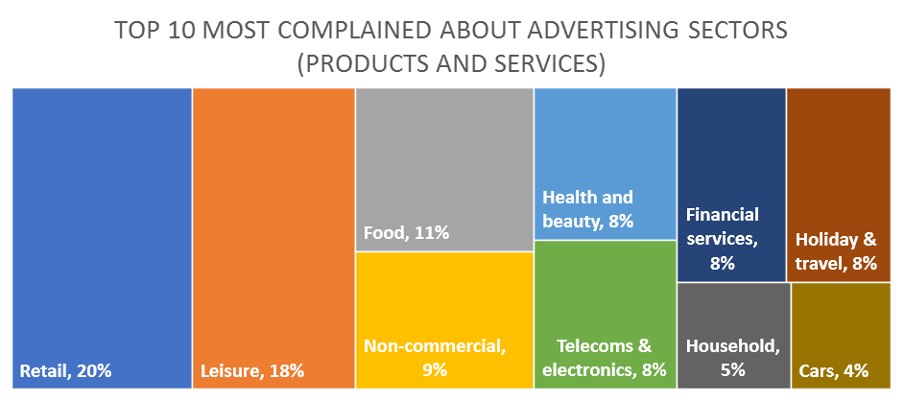 So what does the future of responsible advertising look like for the industry
Advertising is a mirror of society. It has changed as our society has evolved. The ad industry is facing two disruptive phenomena: rapid changes in the adoption of technology and in our society's values. These may only be accelerated in the wake of the COVID-19 situation.
First, the way ads are featured is evolving as technology enables new communication means. For instance, digital ad spend has exceeded that of other media. Ads are being served on mobile device. Consumers are basing purchasing decision based on the review done by influencers. Today, the popularity of virtual influencers is on the rise. Possibilities are almost limitless but the need for responsibility and consumer trust remains.
Secondly, what is considered as decent varies across the diverse fabric of cultures which make up Europe. It also has evolved throughout time whether it be regarding gender portrayal or environmental issues. What was acceptable 10 years ago may no longer be, or vice-versa. The needle may move but, always, the need for responsibility and consumer trust remains.
Marketing communications should be legal, decent, honest and truthful. These principles which are enshrined in the ICC Marketing code, which dates back to 1937, remain relevant today! The self-regulatory system has been able to ensure, through code revision processes, guidance and adjudications, that these principles are still applicable today, despite the drastic social and technological changes.
I believe that the COVID-19 situation will make issues of trust and responsibility only more acute. In this context, advertising-self-regulation has a bright future because, being nimble, it will adapt to successfully addressing such issues, no matter how technology or society evolves entering the new decade.
For more information about the EASA please visit https://easa-alliance.org