Life As An Influencer is a 'behind the scenes' view of the often hectic world of influencer marketing. This week we hear from Jess Last one half of @the.travel.project
How did you get started?
In 2016 we quit our jobs in advertising to travel the world. We didn't want to follow the typical route and instead wanted to get a deeper more local perspective on the places we visited. That's when The Travel Project was born… we decided to use instagram to connect with local creatives in the places we visited, allowing us to see the world through theirs eyes.
Who/what has been your biggest influence?
We started the Travel Project as a result of not being able to find what we were looking for when we researched our trip, so the people who have been the biggest influence to us have to be the first people we met up with when we landed in India, back in October 2016. At that point we had 0 followers and they knew very little about us, yet they still took the time to meet us, share their culture, show us their favourite places and even invite us into their homes. It's the exceptional friendliness and generosity of these people that gave us the confidence to keep going.
Photographers we love though include:
@rorydoyle
@lucylaucht
@fieldnotes_
What platform has been most effective for you and why?
As it's an Instagram-powered adventure, we have to say instagram as it has allowed us to make connections all across the world. That said, we're starting to blog more to tell our stories and share experiences in more depth.
What has been your biggest achievement so far?
Winning the Cosmo travel Influencer of the Year in 2018 was a massive surprise and felt like quite a big achievement. We genuinely started it as a passion project to enable us to meet interesting people and explore different parts of the world in more depth, so it's been amazing to see how many people are engaged and interested in travelling in a similar way themselves.
Where do you see the industry in 5 years time?
With the rise in the number of influencers on the scene and the existence of so many accounts with bought followers, we think that there will not only be greater regulation, but also there will be a greater demand for influencers as content creators (based on the quality of the creative) rather than simply for their media offering. Also we're likely to see other social channels taking off – TikTok's already making waves around the world and there are many more out there trying to compete.
What is the optimum number of subscribers/followers that you can manage?
Hard to say really as we only have experience of what we've got. If people are genuinely engaged, then I guess there isn't really a limit. Of course it's easier to have more personal relationships with your followers when there are less of them though.
If you had one wish what would it be?
You've got to say world peace here really haven't you!
Though if you mean something that's more achievable, then just for people to talk to locals more when they travel. It's amazing what you can learn about cultures and what they can learn about you in return – and without a doubt you'll have a better experience that way. Oh and we also wish we had access to endless free camera equipment.
About Jess Last, Co-Founder, The Travel Project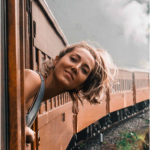 The Travel Project started in 2016 when founders Charlie and Jess quit their jobs in advertising to conduct an experiment. They wanted to see what would happen if they travelled the world guided solely by the creative community of Instagram. This innovative use of the platform took them on a year long adventure around the world, giving them access to unique local experiences and building a global community of 24K+ people as well a network of 150+ influencers. By 'hacking' Instagram's global network and using it as a tool for real world connectivity the couple gained unique insight into the future of the platform, story telling and influencer marketing. This in turn led to the creation of The Travel Project Ltd as the couple set about sharing their knowledge and experience with businesses looking to find their online voice. With experience as consumers, marketers and influencers The Travel Project Ltd offers a 360 approach to story telling.