Grand Marnier
Objective
To use London Cocktail Week as a springboard to promote Grand Marnier in the UK and drive attendance at key Grand Marnier events. Many people have never tried Grand Marnier before, so we approached this like a new brand. Our aim was to educate and inspire audiences, as well as driving brand awareness.
Approach
We asked 9 influencers to attend Grand Marnier's London Cocktail Week events, capturing Instagram stories to encourage their audiences to attend. Each story included a swipe up link to the ticket landing page.This was supported by two posts to feed per influencer, driving awareness of both the events and the brand itself. All content focused on Grand Marnier's eccentric sophistication, with an emphasis on standing out from the crowd.
Results
Reach: 403,000
Engagements: 77,542
No. Influencers engaged: 9
No. Pieces of content created: 42
UK based campaign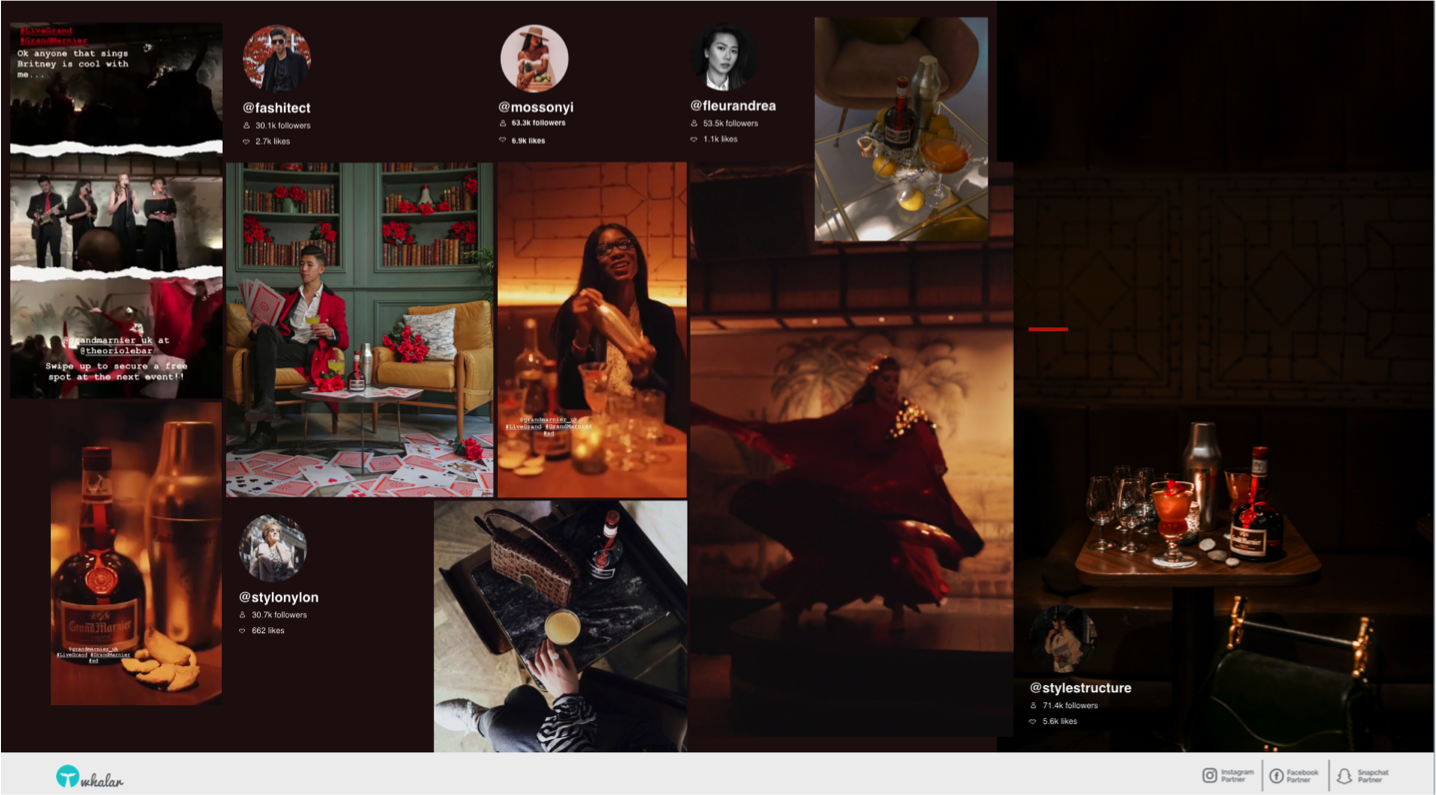 About Whalar
Whalar is an influencer marketing platform focused on creators with influence.
We're providing a new operating model for producing high quality creative work and accessing engaged audiences; done globally, in a fraction of the time it has traditionally taken and for a fraction of the cost. Our mission is to 'Liberate the creative voice'​.
Our Chairman is Sir John Hegarty, one of the worlds most awarded creators and our focus is all on creativity
We're an official partner of Facebook, Instagram and Snap, giving us unrivalled access to data and insights
In under 2 years we have built up a client list that includes Apple, Nestle, Uber, Unilever, Dior, PepsiCo, Estee Lauder and hundreds of others
We're a very good partner to agencies, having worked alongside WPP, Omnicom, IPG, Publicis, Dentsu and Havas
As Sir John always remind us, 'All roads lead to the work'​ and so if you'd like to see some actual work then please do check out www.whalar.com