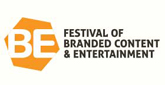 ABOUT THE FESTIVAL
The Festival of Branded Content and Entertainment celebrates branded entertainment and brand funded content in all its creative breadth and ingenuity.
Our ambition is to recognise the importance of branded content and entertainment in connecting brands directly with customers. It's also to provide the industry with tools, information and guidance to help create better, and more effective work.
The conference will include case studies, workshops, debates and practical advice on funding, creating and distributing branded entertainment and content, along with a formal networking forum.
The day-long conference on October 3rd also includes screenings and displays of the best branded content from the APAC region and around the world. View the schedule.
The Festival concludes with the Branded Entertainment Awards, which recognise the most exceptional work from the Asia Pacific region.
As one of the fastest growing and most creative segment of the advertising, entertainment and marketing industry, the discipline of branded entertainment has been recognised at international advertising awards, with the Cannes Lions, the A-List Awards and Singapore's Spike Awards adding branded entertainment to their category lists in the last couple of years.
The Festival of Branded Entertainment is the first to recognise the importance of branded entertainment as a key business trend in the APAC region, with 2012's Branded Entertainment Festival taking a bold step to recognise it as a standalone industry (the first time the discipline had been awarded in Australia and New Zealand).