THE BIG RETHINK 2013 – MAKE YOUR BRAND MORE POWERFUL – 21st March 2013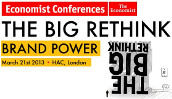 HIS marketing event, now in its fourth year, gathers 150 leading marketers together to generate fresh ideas. It is a space in which conventional thinking is challenged and critical visions, tools and insights are shared. With interactive sessions led by the most unexpected and talented individuals, this summit will provide our audience with new approaches to marketing in today's challenging environment.
THE THEME THIS YEAR
BRAND. It could be the most valuable asset you have. Is it as powerful as it could be? Does it engage consumers who are exposed to ever more brands, and who demand ever more meaningful, personal relationships with them? Is it strong enough for you to withstand increasing competition to your company? In 2013, The Big Rethink will invite you to think about interesting ways to make your brand more powerful.
ATTEND THIS EVENT TO:
KNOW YOUR OWN STRENGTH: How can the power of brands be measured?
UNDERSTAND THE POWER OF MYSTERY: How can brands benefit from mystery, magic and exclusivity in the information age?
FIND ANSWERS TO PROVOCATIVE QUESTIONS: Does sex still sell?
LEARN FROM POWERFUL CASE STUDIES: A series of case studies will reveal the successful ways in which leading brands are creating emotional engagement with consumers.
MAKE YOUR BRAND MORE POWERFUL
BCMA members qualify for a 15% discount.
Share Your Thoughts
Leave a comment to contribute to the discussion
To let us see what you look like, get a gravatar.