The BCMA is hosting a series of events with partners and also offers members concessionary rates to other partner events throughout the year.
Join Us At The Cristal Festival/BECS (16th to 20th December, Courchevel)

We have once again partnered with our great friends at the Cristal Festival/BECS.
In the beautiful surroundings of Courchevel, experience 4 days of workshops, conferences and round tables bringing together international communication & media experts. At the crossroads of learning and networking, the Cristal Lab aims to address the most current issues.
• 2 days: Global Brand Entertainment & Content Summit
• 2 days: Marketing Innovation & Data Forum
The Festival is the number one place for networking and knowledge sharing during the Cristal Lab. This is the moment to get a good overview of the latest trends and developments in the industry, and is a meeting place for the biggest European and international specialists through prestigious debates, keynote speakers, conferences and workshops.
To register for the event please visit http://www.cristalfestival.com/register-event/
We look forward to seeing you there.
The Best of Branded Content Marketing Live, London
We're currently planning our "Best of Branded Content Marketing" event – scheduled for February 2015.

If you would like to take part in this event as a speaker, sponsor or partner please email us here.
What's It All About?
"The Best of Branded Content Marketing Live" collaboration is curated and facilitated by the BCMA and DMC and aims to create the "Must Attend" event in partnership with leading marketing associations, media owners and brands.
The BCMA is an international body that encompasses members spanning world leading brands, broadcasters, filmmakers, studios, producers, advertising agencies, media planners, publishers, games and music producers.
It strives to promote the best work and practice as well as latest thinking through the following activities:
• commissioning and supporting research
• running educational events and partnering with International events
• facilitating measurement initiatives and tools
• publishing a series of market reports, guides and books
So Why Hold The Event?
What we want to to do is show how all disciplines are blurring into one around branded content marketing, and create an environment where the best work can be showcased, latest thinking can be discussed, and where the different parts of the value chain from content creation, engagement management, distribution and measurement can showcase their wares to end, and where agencies, clients, media owners and other content creators can network with each other.
What's The Event Format?
This will be a "Festival of Solutions" which the format lends itself well to a space where lines are being blurred. They help us create a platform where participants can join fellow 'like minds' in order to inspire one another and make those ideas happen.
We believe there's an opportunity to not only bring together some of the most inspirational thinkers in this space to discuss the important and emerging theme, but also create a mash-up thinking between that various areas, including: Branded Content, Branded Entertainment, Brand Publishing, Content Marketing, Native Advertising and Social Media Marketing.
There's also an opportunity to make the event more 'show biz' given the link with branded entertainment.
Event Themes.
The BCMA have commissioned and supported a number of qualitative and quantitative research programs, including:
Curing The Content Headache, in partnership with MSLGROUP London, CorpComms Magazine and Tapestry Research
Defining Branded Content for the Digital Age, in partnership with the Oxford Brookes University and Ipsos
The Future of Branded Content Marketing, in partnership with the author Justin Kirby that formed part of their Best of Branded Content Marketing eBook series
We have identified a number of key and emerging themes as well as strategic considerations, including:
Skills gap for those with broad understanding of culture, social science, technology, analysis, creativity, and content creation skills
The alignment of the means of delivery (the media) at scale, and it's increasing 'technofication', and the creation of content that actually engages audiences rather than interrupts them or isn't transparent about who is behind it
The evolution of the agency model that blurs the lines between media owners, content creators, brands, and even consumers who are now becoming content creators and even media owners and brands
The rise of new technologies and increasing importance of big data versus more creative and experimental approaches that go beyond historical data to give people what they don't know they need yet.
Content overload and increasing speed at which the internet gets bored, coupled with lack of investment in measuring impact particularly with regard to the dual challenge of really understanding at a micro-level how individual channels or touch-points are working, but also at a holistic level, how they all fit together.
Measurement and analytics that can help predict and optimise content across multiple channels, versus the more that media can be delivered on an individual basis the more it becomes what people do than what audience group they are in; and how this changes everything in terms of how media works and who should be on the team to deliver and evaluate it.
Event Input and Output.
We want to work with partners to refine themes so that we reflect the challenges facing their audiences as well as provide solutions and highlight opportunities. We also plan to get input from industry experts around the globe about the importance of these themes and what else they think need to be covered.
This will be put together as an accompanying report for the event, and we will be seeking input from partner organisations and their stakeholders as part of this initiative. The content created at the event will also be made available in order to increase social engagement, and reach a larger audience.
Who Partners?
We are looking to partner with leading advertising and marketing associations but also those that represent the relevant stakeholders in the Branded Content, Branded Entertainment, Brand Publishing, Content Marketing, Native Advertising and Social Media Marketing.
If you would like to take part in this event as a speaker, sponsor or partner please email us here.
BRAND2GLOBAL, THE GLOBAL MARKETING CONFERENCE, 1-2 October, London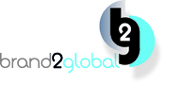 The Brand2Global Conference is a global marketing conference aimed at top tier Marketers responsible for developing and executing global brand strategies.
The two-day conference focuses on best practices in global branding, global marketing campaigns and global digital media.
Use this discount code 15BCMA to receive a 15% discount off any single-day or two-day registrations.