The BCMA is hosting a series of events with partners and also offers members concessionary rates to other partner events throughout the year.
The Big Rethink 2014 – 18th March, The HAC, London

The Economist's flagship marketing event, The Big Rethink attracts an audience of over 200 leading marketers.
Changing technological innovation is making our consumer much more demanding, they expect marketing to provide value that is tailored to their interests and delivered in a way that fits in seamlessly with their lives.
This year we aim to inspire you to make your marketing more personal and meet your customer's expectations.
Speakers on the day include:
Tom LaForge, Global Director of Human & Cultural Insights, The Coca-Cola Company
Bruce Daisley, Managing Director, Twitter UK
Moray MacLennan, Worldwide Chief, Executive Officer, M&C Saatchi
Matt Atkinson, Chief Marketing Officer, Tesco
Attend The Big Rethink on March 18th 2014 and rethink the way you communicate.
BCMA members will also benefit from a 20% discount (discount code BCMA/DC)
Visit www.bigrethink.com for full programme and speaker list and to book your tickets.
Best of Branded Content Marketing 10th Anniversary Edition – 18th March, DigitasLBi, London
To celebrate its 10th anniversary, the BCMA has produced the 'Best of Branded Content Marketing, 10th anniversary edition'.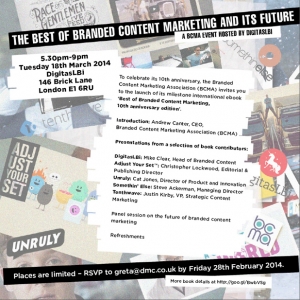 This ebook presents the greatest recent branded content marketing campaigns from cutting-edge brands and agencies, as well as the latest 'what is', 'how to' and 'what's next' features from expert practitioners – including emerging market reports from Brazil and Russia, Ipsos MORI and Oxford Brookes University research study findings, and predictions about the future of branded content marketing.
Contributors include:
- Adjust Your Set™
- Barclays Bank
- Carphone Warehouse
- Chivas Regal
- DigitasLBi
- Forsman & Bodenfors
- Hellmans
- Intel
- ITV
- McCann
- Metro Trains
- Ogilvy
- OMD Fuse
- PepsiCo
- Pereira & O'Dell
- Red Bee Media
- ShurTech
- Somethin' Else
- Sony
- Tenthwave Digital
- Terra
- Toshiba
- Unilever
- Unruly
- Wanted/Asas
- Volvo Trucks
- and many more brands and branded content marketing practitioners
The 'Best of Branded Content Marketing 10th Anniversary Edition' is an enhanced multimedia ebook. It has been produced by the BCMA in partnership with strategic consultant Justin Kirby (Tenthwave and DMC), editor Greta MacFarlane (DMC) and designer Mark Welland (New Media Works). DMC and New Media Works are strategic partners of the BCMA. DMC is a digital marcoms consultancy, specialising in connected and collaborative approaches to business and marketing. New Media Works is a digital design consultancy and app developer.
We would like to thank all of our contributors who have helped to make this ebook possible.
From its launch on 18th March 2014, you will be able to download the book in enhanced media format free from iTunes, or view it as a PDF file on Slideshare.
If you would like to attend just RSVP to greta@dmc.co.uk
Connect With the Future of Media – 6-8 April 2014, Rome, Italy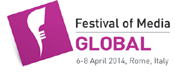 Described as the 'Davos of the media industry', the Festival of Media Global is a two-day conference welcoming over 800 media leaders to Rome to debate, trade, find business solutions, reward creativity and celebrate innovation.
From questioning transparency in a digital age to meeting the best brand storytellers, the Festival of Media Global 2014 agenda touches all corners of the international media landscape and will encompass exclusive industry announcements, debates that will shape the future, insights into what chief marketing officers of the world's largest advertisers want and a look into the future with the technologists who are pushing boundaries.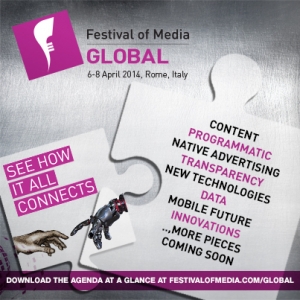 Download the Agenda at a Glance – Festival of Media Global 2014
Book now and join the world's most dynamic media leaders – 6-8 April 2014, Rome, Italy
Exclusive 10% discount for BCMA members – Use code BCMA10GP30 when booking online
http://www.festivalofmedia.com/global
@festivalofmedia
#FOMG14
MIP Digital Fronts – 9th & 10th April 2014

The BCMA has partnered with MIPTV to launch their new exciting series, MIP DIGITAL FRONTS.
The NEW International Screenings for Original Online Video. Over a dozen of the world's most acclaimed digital studios present the hottest new web series and online channels with global reach. Meet the talent and creative teams behind
the play button.
The MIP Digital Fronts creates a true digital content marketplace and is the must attend showcase for producers, brands, channels and everyone involved in the digital entertainment frontier.
Download the Highlights – MIP Digital Fronts
Book Here and enter Code: "BCMA" – to receive your BCMA member discount on the MIPTV Fast Pass (Wednesday 9th and Thursday 10th APRIL 2014). This code will be available until the 31st of MARCH