The BCMA is hosting a series of events with partners and also offers members concessionary rates to other partner events throughout the year.
Midem Marketing Competition

Midem, the leading international business event for the music ecosystem, announces the 3rd edition of the Midem Marketing Competition with an eclectic jury composed of music industry professionals, brands and advertising executives.
The Midem Marketing Competition is an international competition for the world's most creative agencies & brands, rewarding the best use or integration of music in a marketing campaign.
10 Finalists will be shortlisted by Contagious, the ad industry's authority on creativity & innovation, and invited to present their campaign at Midem 2014, in front of an international jury.
The jury confirmed for this edition will reunite:
• Andrew Creighton, President, VICE Media, Inc. (USA)
• Aricio Fortes, Creative Director, Africa (Brazil)
• Bernhard Hafenscher, Head of Sales & Business Development, RedBull Media House (Austria)
• Sébastien Perrier, Head of Brand Partnerships, Sony Music Entertainment (France)
• Doug Scott, President, Ogilvy Entertainment (USA)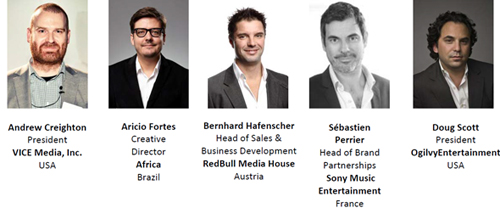 This prestigious jury will evaluate each campaign and select the three winners – Gold, Silver & Bronze – who will be announced during a special awards ceremony within Midem Talks' programme, on Monday 3rd February.
The call for entries to the competition is now open, and submissions must be made before 11 November 2013. Don't wait to apply! Submissions are free of charge and the finalists will be invited to Midem.
The Branded Content Marketing Association is a proud partner of the Midem Marketing Competition.
As part of this partnership, Midem offers the possibility to BCMA members to be registered to Midem 2014. If you are interested, please send an email to info@thebcma.info
Cristal Festival/Branded Content & Entertainment Summit (BECS) 11th – 13th December

The BCMA is delighted to continue and build its partnership with the Cristal Festival/BECS.
After 4 years of creativity celebration in Switzerland, the Cristal Festival returns to France and settles in the famous ski resort of Courchevel in Savoie.
The Cristal Festival is a Festival that celebrates and inspires European creativity in advertising, marketing, brand entertainment, digital, design and film craft.
Since its creation in 2001, The Cristal Festival has been the leading event for Europe's creative advertising industry, bringing together a mixed jury of international agencies and major European advertisers. The Cristal Festival is a place where European communication leaders unite to exchange, network, learn and be inspired.
The Festival provides first class networking and knowledge sharing opportunities over four days of workshops, debate, exhibitions, screenings, master classes and high-profile seminars to an increasing large community of art directors, copywriters, media agency executives, clients, account managers, agency heads, producers and directors from across Europe.
The accreditation also includes access to all conferences and workshops of the Brand Entertainment and Contents Summit. The 2nd edition of the Summit will be held during the Cristal Festival, from the 11th until the 13th of December. The global Summit will welcome industry leaders from the Brand Entertainment industry to demonstrate the strong correlations between brands and content.
The event will cover all the aspects of the brand entertainment industry from creative (music, video, experiential, gaming…), technological (social network, data…) to distribution (content assets and value). The Summit will also include advertisers, enabling them to better understand the importance of investing in Brand Entertainment projects.
Please contact info@thebcma.info for more details.
Branded Content Event, DeFabrique, Utrecht, Netherlands, 30th January 2014
Theme 2014: Branded content indispensable in a content-driven media world
http://brandedcontentevent.nl/
Branded content as a form of communication has been around for some time. Whatever name we give it to change with the times. Starting as a typical phenomenon for TV, when it was still "non-spot" called advertising. The new name for this in the digital landscape is "native" advertising. Meanwhile, branded content more versatile than ever. Due to the rapid growth of digital technology increasingly penetrates branded content through in our daily lives. It changes the communication between and to consumers.
Content is accessible anywhere, anytime. Additionally, social media adds a layer in which content is directly accessible and shareable. Brands can now word of mouth influence by providing interesting content that people want to talk and what they would like to share. New interesting and inspiring content formats are therefore indispensable. During Branded Content Event 2014 we offer many branded content inspiring case studies and examples of homegrown, we take a look at the international branded content cuisine and we offer a stimulating key note about the quality of branded content.