The BCMA is hosting a series of events with partners and also offers members concessionary rates to other partner events throughout the year.
Connect With the Future of Media – 6-8 April 2014, Rome, Italy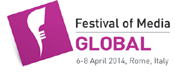 Described as the 'Davos of the media industry', the Festival of Media Global is a two-day conference welcoming over 800 media leaders to Rome to debate, trade, find business solutions, reward creativity and celebrate innovation.
From questioning transparency in a digital age to meeting the best brand storytellers, the Festival of Media Global 2014 agenda touches all corners of the international media landscape and will encompass exclusive industry announcements, debates that will shape the future, insights into what chief marketing officers of the world's largest advertisers want and a look into the future with the technologists who are pushing boundaries.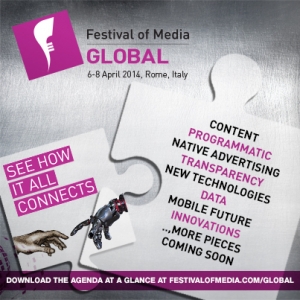 Download the Agenda at a Glance – Festival of Media Global 2014
Book now and join the world's most dynamic media leaders – 6-8 April 2014, Rome, Italy
Exclusive 10% discount for BCMA members – Use code BCMA10GP30 when booking online
http://www.festivalofmedia.com/global
@festivalofmedia
#FOMG14
MIP Digital Fronts – 9th & 10th April 2014

The BCMA has partnered with MIPTV to launch their new exciting series, MIP DIGITAL FRONTS.
The NEW International Screenings for Original Online Video. Over a dozen of the world's most acclaimed digital studios present the hottest new web series and online channels with global reach. Meet the talent and creative teams behind
the play button.
The MIP Digital Fronts creates a true digital content marketplace and is the must attend showcase for producers, brands, channels and everyone involved in the digital entertainment frontier.
Download the Highlights – MIP Digital Fronts
Book Here and enter Code: "BCMA" – to receive your BCMA member discount on the MIPTV Fast Pass (Wednesday 9th and Thursday 10th APRIL 2014). This code will be available until the 31st of MARCH