Midem, the leading international business event for the music ecosystem, announces the 3rd edition of the Midem Marketing Competition with an eclectic jury composed of music industry professionals, brands and advertising executives.
The Midem Marketing Competition is an international competition for the world's most creative agencies & brands, rewarding the best use or integration of music in a marketing campaign.
10 Finalists will be shortlisted by Contagious, the ad industry's authority on creativity & innovation, and invited to present their campaign at Midem 2014, in front of an international jury.
The jury confirmed for this edition will reunite:
• Andrew Creighton, President, VICE Media, Inc. (USA)
• Aricio Fortes, Creative Director, Africa (Brazil)
• Bernhard Hafenscher, Head of Sales & Business Development, RedBull Media House (Austria)
• Sébastien Perrier, Head of Brand Partnerships, Sony Music Entertainment (France)
• Doug Scott, President, Ogilvy Entertainment (USA)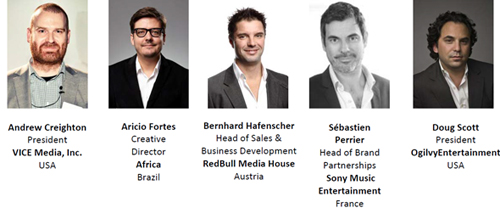 This prestigious jury will evaluate each campaign and select the three winners – Gold, Silver & Bronze – who will be announced during a special awards ceremony within Midem Talks' programme, on Monday 3rd February.
The call for entries to the competition is now open, and submissions must be made before 11 November 2013. Don't wait to apply! Submissions are free of charge and the finalists will be invited to Midem.
The Branded Content Marketing Association is a proud partner of the Midem Marketing Competition.
As part of this partnership, Midem offers the possibility to BCMA members to be registered to Midem 2014. If you are interested, please send an email to info@thebcma.info