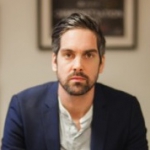 James Larman is a strategist who has been helping brands create entertainment all through his career – even when it wasn't recognised as such and 'content' was only something media publishers did! As a planner at OMD UK he helped Tetley's Bitter create a new partnership with England Rugby. Together with the Telegraph they recruited a team of past England players and commentators to create, record and write entertaining rugby content for 'Team Tetley's'. In 2006 he went to Sydney where he joined Naked Communications and his interest in branded content really began. He developed a number of entertainment solutions for clients, including a reality TV series for Pokerstars and a Christmas music track and video for Telstra.
He was then a founding member of Powered – the Channel Nine & MSN content solutions team During his time there he helped develop a TV travel show for Tourism Australia; a live fashion experience for MLA and an episode of The Apprentice for Microsoft. He hopped back into agency land at Mediacom to lead their strategy team where he was responsible for the thinking behind a new reality TV show for the Volkswagen Amarok and another music track! (this time with KFC & Good Charlotte).
In 2013 he returned to London as DRUM's Head of Strategy, responsible for leading their philosophy & thinking around content. Recent memorable work has been the creation of Channel Us, Mcdonald's brand new YouTube channel & entertainment format for 16-24's; the live YouTube show The Fox Problem with HP and '4 The Players Since 1995' – a hugely successful online short that helped launch the Playstation 4.