CHINA CONNECT – (Paris 28th to 29th March 2013)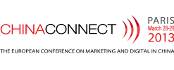 Founded and organized by Laure de Carayon, China Connect is the largest gathering of experts on Chinese consumer trends, marketing, digital and mobile in Europe. This unique event is reaching out to an audience of top-level European marketing & digital decision makers from luxury, cosmetics, fashion, retail, FMCG, services, communication, media and the international press focusing on the Chinese market.
Why should you come?
Meet the influential digital players and the most innovative brands from China and access the highest-level insights to engage and sell to China's increasingly savvy and discerning consumers. Develop your expertise on China's unique, innovative and ever-changing digital scene .Connect with the most sought-after marketers in China .Explore new business opportunities with leading Chinese digital and media players
Who should come?
Heads of Marketing
Heads of Communication
Heads of Strategic Planning
Heads of (new) Media
Global Consumer Brands (Luxury, Fashion, Cosmetics, FMCG , Automotive,
Services.)
.Media, Advertising, Digital and Mobile Agencies .Retailers and E-tailers .Digital Service Providers .Content Producers (TV, Music, Games) .Internet Portals .Social Networks, .Innovation and Research Organizations
To receive the full member discount rate of 33%, please use promotional code BCMA13 when booking.
Share Your Thoughts
Leave a comment to contribute to the discussion
To let us see what you look like, get a gravatar.