Brand2Global Conference, September 16-18, 2013 – London
Brand2Global Conference, September 16-18, 2013 – London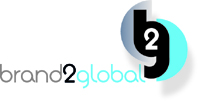 Brand2Global Conference is a new event designed for executives who drive global marketing and are responsible for international market share and revenue. It will feature presentations from experienced practitioners with global marketing experience in four key focus areas: Global Branding, Global Marketing Campaigns, Global Websites and Global Social Media.
The presentations are being designed to answer these basic questions facing the global marketer:
What is your brand essence and how can you assure that it is established accurately in each target country?
What are the best practices for global advertising campaigns that combine a universal message, yet can be easily translated into local campaigns?
What is the best strategy for international SEO and how can you take advantage of it while building your global brand and campaigns?
How are social media outlets revolutionizing the way your brand interacts with customers across borders and how can you track and integrate the sentiments of your global customers in an effective manner?
For more information please visit the website: www.brand2global.com
Share Your Thoughts
Leave a comment to contribute to the discussion
To let us see what you look like, get a gravatar.