To celebrate its 10th anniversary, the BCMA has produced the 'Best of Branded Content Marketing, 10th anniversary edition'.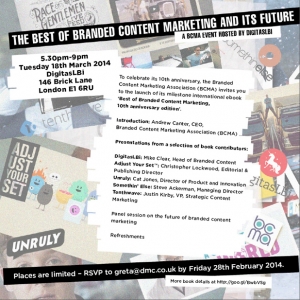 This ebook presents the greatest recent branded content marketing campaigns from cutting-edge brands and agencies, as well as the latest 'what is', 'how to' and 'what's next' features from expert practitioners – including emerging market reports from Brazil and Russia, Ipsos MORI and Oxford Brookes University research study findings, and predictions about the future of branded content marketing.
Contributors include:
– Adjust Your Set™
– Barclays Bank
– Carphone Warehouse
– Chivas Regal
– DigitasLBi
– Forsman & Bodenfors
– Hellmans
– Intel
– ITV
– McCann
– Metro Trains
– Ogilvy
– OMD Fuse
– PepsiCo
– Pereira & O'Dell
– Red Bee Media
– ShurTech
– Somethin' Else
– Sony
– Tenthwave Digital
– Terra
– Toshiba
– Unilever
– Unruly
– Wanted/Asas
– Volvo Trucks
– and many more brands and branded content marketing practitioners
The 'Best of Branded Content Marketing 10th Anniversary Edition' is an enhanced multimedia ebook. It has been produced by the BCMA in partnership with strategic consultant Justin Kirby (Tenthwave and DMC), editor Greta MacFarlane (DMC) and designer Mark Welland (New Media Works). DMC and New Media Works are strategic partners of the BCMA. DMC is a digital marcoms consultancy, specialising in connected and collaborative approaches to business and marketing. New Media Works is a digital design consultancy and app developer.
We would like to thank all of our contributors who have helped to make this ebook possible.
From its launch on 18th March 2014, you will be able to download the book in enhanced media format free from iTunes, or view it as a PDF file on Slideshare.
If you would like to attend just RSVP to greta@dmc.co.uk