BCMA Insight Series "Power to the People"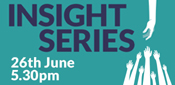 The great and the good from the branded content industry gathered together on Wednesday (June 26th) evening at the superb basement venue at Havas Media in London. The theme for the BCMA Insight Series event, "Power to the People" which focused upon the evolution of brand and talent relationships as an essential part of branded content marketing. In our tech-enabled, social media world we looked at identifying the new trends emerging and what insights could be uncovered to enable brands and their agencies to maximise the benefits for these relationships.
The event, sponsored by Alphagrid and Dot Talent, our media partner being C21, gathered together an expert panel featuring Oli Trethewey, Founder of talent/brand agency Romelle Swire, Danny Spronz, CEO/Founder of Dot Talent and Joanna Scarratt, Head of Brand Partnership at United Agents. Following a brief introduction from BCMA CEO Andrew Canter the lively session began with Evolution One: From Endorser to Creative Director with Oli's perspective on the recent development of celebrities being given in-house branding roles. Talent as brand or Brand as talent? The two are merging/becoming harder to distinguish – one example being PaddlePop ice-creams and their mascot becoming a film star, and the X-factor example of "who is the product" and "who is the talent" – the band, or the people behind the band?
He went on to explain the 3 key insights ranging from Endorsement to Brand Ambassador. 1) Endorsement works well for the likes of L'Oreal, Nespresso etc – the market isn't 'evolving' into something better than this. Social Media/Consumer touch points should be leveraged – but we don't need George [Clooney] in Guatemala picking beans to be useful – he brings shiny, and sexy.. it's enough… So there is still some merit in "stick a big star on the pack". 2) Middle Ground is Alicia Keys/Blackberry – "Creative Director" – or more "involved in Creative Advertising" – she's not even having as much impact on the actual product as Marc Jacobs for Diet Coke (at least he designed the bottle !). 3) Marc for Louis Vuitton is obviously the true 'creative director' – but Dr Dre and Beats is also an excellent example – his passion drove that project F*** sneakers, let's make speakers"(!).
You need passionate talent to drive a project – so they must be interested, engaged, credible, and not p***ing off their fans. As an industry should remember there is no shame in PR/Endorsement – they are neither RIGHT and the other WRONG, or better/worse.. we're all just here to sell stuff at the end of the day! He closed by just saying to remind us all to call a 'spade a spade', and do things honestly, or consumers will see through it, and this job is not just about patting ourselves on the back in Campaign Magazine!
Next up was Danny Spronz to give his viewpoint on Evolution Two: From Unobtainable Celebrity to Accessible Digital Friend which focused on how social media has been a game changer in the talent/brand world. In many ways an unsurprising title as we're all now used to being able to interact with celebrities using Twitter and Facebook. He showed an image of the infamous YouTube clip "Charlie bit my Finger" (11m+ views) and asked the audience who thought Charlie was a 'celebrity' – most people agreed! He went on to say that in today's world celebrities are people we admire, and they're people we aspire to being like. So we want to know what they're up to, what they're thinking, and what they're wearing. He said that celebrities have become brands in their own right, and their management teams have shifted from being pure organisers of performance, to also being brand managers, with a target audience, brand essence, style, and tonality like any conventional brand. As social media followings grow, celebrities are also becoming media owners. Meaning that celebs are getting a lot closer to their audiences, and are becoming increasingly valuable to the owners of conventional brands.
Which is more influential? Brand OR Celebrity? In fact, celebrities tend to be far more influential and this is because they are both aspirational and, although this is a simple truism, they are PEOPLE … and consumers tend to be highly influenced by the attitudes and behaviour of others that they look up to. He then showed a video of Littlewoods Live they created, the UK's first ever Live video show to be broadcast on facebook. A new kind of celebrity is emerging, the YouTube celebrities. These are people who are achieving their fame solely through their appearances on YouTube. Very.co.uk formed a collaboration with Zoela. Entertainment is key to achieving engagement, and music is therefore a key genre within celebrity-fronted branded content. Comedy also offers a major opportunity for brands and the future of social is increasingly in interactive video. When a brand has made the switch to using Social Video, they also want to know that it's working, and this is where the use of data comes into its own.
Our final speaker was Joanna Scarratt with a talent agents perspective on Evolution Three: From Paying for Celebrity to Paying for a Celebrity and the Community exploring how brands are paying for talent is changing. As a fully qualified lawyer, Joanna explained that her work mainly involved negotiating contracts for her clients/talent. Not so glamorous, as she explained that although the majority of her clients were actors whose reputation and profile is built as a result of their work and the roles they play. This is very different from other talent such as musicians, sportspeople and presenters.
Actors see themselves first and foremost as artists and there is a huge fear of being seen to "sell out", of compromising their reputation if they undertake any work which can be called "commercial". Of course she was generalising, but there is definitely suspicion of anything that does not require them to be in character. This attitude can also be prevalent amongst the management team as well. And this applies to projects ranging from traditional commercial campaigns to brand sponsored, creative activity. She said that they regularly have to turn down offers worth millions of pounds in her department. She revealed a key insight that often a main motivation for working with a brand is getting married or divorced, wanting to buy a house or having an enormous tax bill to pay.
She explained that once a deal is on the table there are three key issues – 1) Fee; 2) Exposure and 3) Time commitment.
1) Fee: The actor will want enough to make the idea of "selling out" worthwhile.
2) Exposure: Understandably the brand will want to exploit the talent as much as possible. After all, if you've just paid out £500,000 upwards you are going to want to get your money's worth.
3) Time Commitment: Be aware that the actor you've secured won't have thought about any other commitment other than shooting days, even when they've received an overview of activity and spelled everything out.
She gave us a fascinating insight to a deal a few months ago for a client launching a new product. From everything you've seen or know about the client you'd probably think he was au fait with all things technical. However, in reality he is what I can only describe as a technophobe. She did flag this up when the deal was being negotiating but in the end it didn't affect anyone's decision. The brand were so delighted to have secured him, they failed to really think about the consequences.
And this lead to a less than happy relationship. For example, social media, as in so many deals, was absolutely crucial to the brand's campaign. The client was active on twitter with several million followers so a good bet you'd think. However, if you look further, there is no other controlled online presence – there's no Facebook page or website and when it came down to it, the client was very, very reluctant to use twitter to promote the advertising activity.
Where does all this leave us? She reminded us that the taxman never goes away and there's always the new house or baby at some point. There are exceptions, there are some people out there who have no problems with a good campaign. And of course there are American celebrities who think the UK is a tiny island somewhere in northern Europe. She is now focusing on up and coming talent – actors who I can talk to about the brave new world to give them an understanding of the opportunities that could be out there for them.
We then opened up the discussion to the audience who were fully engaged with the speakers and there were some excellent questions which added great value to the debate.
With the formalities over, it was time for everyone to relax and enjoy the food and wine supplied by our fantastic sponsors.
Next Insight Series event in October will focus on new, leading edge technology platforms for branded content.
Share Your Thoughts
Leave a comment to contribute to the discussion
To let us see what you look like, get a gravatar.