Launch of the first German-language digital publication 'For the Love of Branded Content – The Perspective of the Experts' at the Digital Content Expo DCX in Berlin
Our For The Love of Branded Content series, brings together those 'thought-leaders' from across the globe to share their 'love' and advice on what it takes to succeed in the rapidly evolving world of branded content. This is the fifth edition of our thought-provoking series of essays written by experts from the DACH region, who all share one thing in common – the love of branded content.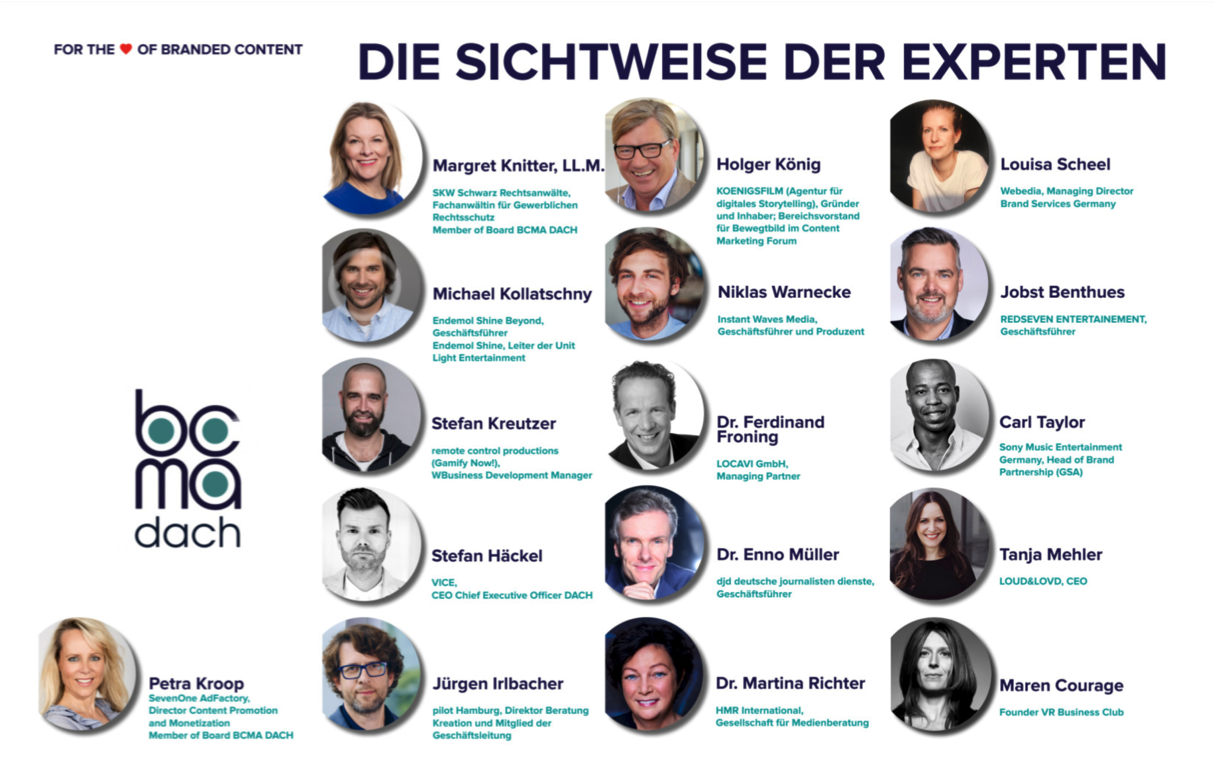 In the digital publication, experts show their personal view of why branded content is so important to them.
Emotion and inspiration accompany us through our brand life. That's why it's so important for advertisers and agencies to positively boost their brands and products, give them brand personality and build trust in them." BCMA DACH Chairman, Sandra Freisinger-Heinl
Branded content can do that. That's one of the reasons why so many market experts are excited about the Branded Content marketing tool. In the publication you will find many more in the expert contributions.
In addition, the experts describe branded content case studies that appeal to them personally.
16 industry experts are involved, including the representatives of the broadcaster SevenOne AdFactory Petra Kroop (Director Content Promotion and Monetization) and Vice, Stefan Häckel (CEO), the managing directors of the renowned film productions Endemol, Michael Kollatschny and Red Seven, Jobst Benthues. Also those responsible for the media agency pilot hamburg Jürgen Irlbacher Director Consultancy and Creation, and for the legal area in Branded Content Margret Knitter, SKW Schwarz lawyer. In addition, many other important personalities that cover the topics of music, influencers, virtual reality, gamification, events and much more, which play an important role in content creation.
They all share a passion for branded content and they all answer four emotional and critical questions to educate brands, companies and agencies about the benefits Branded Content offers:
1. Why is branded content important to you?
2. What do you particularly like about this way of advertising?
3. What advice do you have for companies that want to create good branded content?
4. What is your favorite case study?
With huge thanks to BCMA DACH Chairman, Sandra Freisinger-Heinl and Vesna Zavrnik from our partners at Edition Digital and their Content Hub
You can find the publication under this link:
https://live.editiondigital.com/e/187rvtqjk/dach-for-the-love-of-branded-content-die-sichtweise-der-experten-teil-5#!for-the-love-of-branded-content-the-experts-view