MIPCube at MIPTV launches two competitions dedicated to branded entertainment – Submit by 22 February!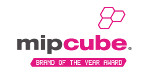 At the heart of MIPTV – the world's market and creative forum for content on every screen – MIPCube brings together the worlds of advertising and content creation to shape the future of digital content and brand experience.
With 11,000 participants, 1,200 production companies, over 1,600 exhibitors and an exclusive Brands and Content programme, MIPCube and MIPTV are where you'll discover how to make the digital experience work for you and your clients.
Learn how, what, where and when your target group consume content and through which platforms; meet new talents; find business opportunities; and see creative approaches to make the shift from traditional advertising to an enriched brand content experience.
Submit your campaigns and ideas to the MIPCube competitions and get worldwide visibility at MIPCube!
Brand of the Year Award: this Award recognizes brands and agencies for the creation of original video content that is central to a wider branded entertainment strategy. The award was created at MIPTV in 2011. Previous winners include AmEx (2011) and Heineken (2012). Could your brand be next? In 2013, we're pleased to announce Fast Company's Co.Create as the Brand of the Year Award's official selection partner. Submissions for 2013 are open until 22 February!
Content 360: the MIPCube / MIPTV competition dedicated to showcasing innovative work from transmedia producers and advertising agencies. Content 360 is looking for people with a unique digital approach to content creation. WANTED: TRANSMEDIA FICTION FOR TV, WEB & MOBILE IN RUSSIA – Reward: 5000€ for project development from CTC Media! And a unique chance for producers and creatives to enter the booming Russian media market!
Contestants can submit their ideas by filling out the Application Form by 24 February 2013.
Share Your Thoughts
Leave a comment to contribute to the discussion
To let us see what you look like, get a gravatar.